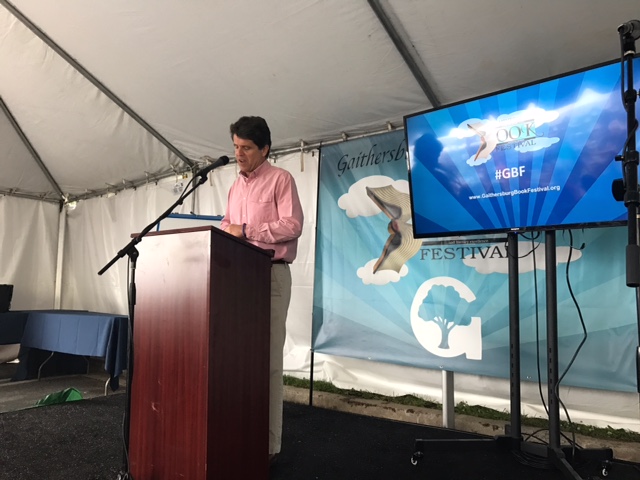 Authors Leave Gaithersburg Book Festival Impressed (VIDEO)
About 130 authors attended the 8th annual Gaithersburg Book Festival at the grounds of City Hall on May 20th, and their reviews of this literary event are glowing.
"I think the Gaithersburg Book Festival is fantastic," said author Mark Shriver, who was at the festival to discuss his latest book, Pilgrimage: My Search for the Real Pope Francis. "I am honored to be here a second time. I don't know if I am going to write a third book but I hope I get invited back."
Germantown resident Rick Campbell, who is the author of Ice Station Nautilus, said book festivals are important to connect writers with their readers.
"It helps us with our exposure," he said.
Bestselling author J. Courtney Sullivan, who is eight months pregnant, traveled to Gaithersburg from New York to discuss her new book, Saints for all Occasions. This was her first visit to Gaithersburg, and she described the city's festival as "incredible."
"I have a list of afternoon events I want to go to, so I am excited," she said, after her author talk.
Author and Emmy award-winning journalist Juan Williams describes the festival as a celebration of books and ideas.
"I love it," he said. Williams was at the festival to interview author Craig Shirley about his new book, Reagan Rising: The Decisive Years, 1976-1980. You can watch their conversation on C-Span.
Author Jennifer Close, who wrote The Hopefuls,  said she was surprised at how much the festival has grown since the first time she attended.  When asked what she likes about the festival, she said, "everything."
"It's nice to talk to other writers and hear what they are doing," Close said.
"It's pretty spectacular," said author Matthew Betley, who was at the festival to talk about his new book, Oath of Honor. 
"I am just blown away, not having been here before. Usually you think book festival, kind of small scale, this is quite the opposite," said Betley. "It's just fantastic. I am bringing my family here next year."
Author Fred Bowen's new book is Outside Shot. Bowen is a regular at the Gaithersburg Book Festival, and with good reason.
"It's just great to be around book people," he said.
Thanks again to all who made @GburgBookFest a huge success Saturday! Had a great time paneling w/ Peter Heller, talking Intrepid Heroines. pic.twitter.com/o09n2QKG2Q

— Greer Macallister (@theladygreer) May 22, 2017
Loved meeting readers at yesterday's amazing @GburgBookFest! And of course, our trip wouldn't be complete without dinner at @PhoChiPho! pic.twitter.com/vt5ksGgnmv

— Kate Messner (@KateMessner) May 21, 2017
@nathanreads, I loved talking writing between your fans at the signing table @GburgBookFest. Enjoy the adventure! pic.twitter.com/RNXLBP5Zm3

— Jenny Yacovissi (@jbyacovissi) May 21, 2017
Gaithersburg Book Festival Sets a Record for Attendance (VIDEO)