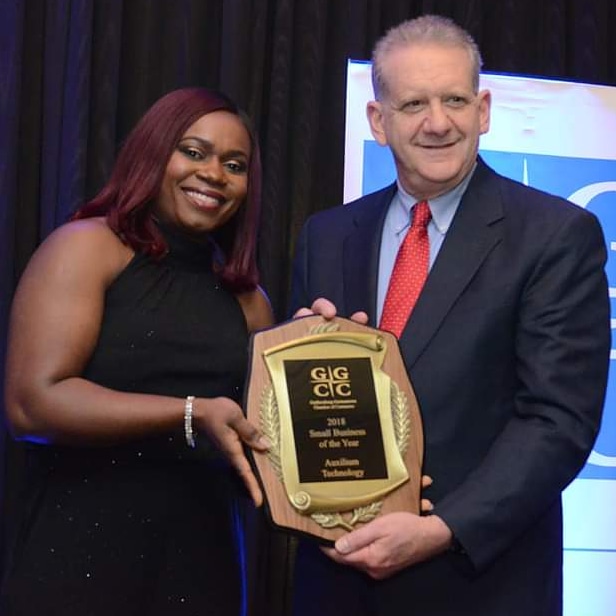 Auxilium Technology Named the Gaithersburg-Germantown Chamber's Small Business of the Year
The Gaithersburg-Germantown Chamber (GGCC) awarded Auxilium Technology as the recipient of the 12th Annual Small Business of the Year Award (SBY) on December 6; as part of their Annual Celebration Dinner & Awards Ceremony. The award was presented by Aj Nwoga with M&T Bank.
"Auxilium Technology is the great small business that exudes passion & success for their business. They excel in many areas, including strategic planning, employee development, community involvement, and customer service. We are honored to recognize Ed and his team for their success, innovation, and contributions to economic growth and free enterprise," said Marilyn Balcombe, GGCC President /CEO.
The Small Business of the Year Award recognizes small businesses, which are a vital part of our economy and community. The award is presented to the small business that demonstrates success, community involvement, and excellent customer relations.
Auxilium Technology started as a vision, and they have worked tremendously hard to make it to where they are today. Their company has grown in both staff and clients, and they never forget their ethics.
Since its establishment, the goal of Auxilium Technology has been to provide clients with advanced solutions across web design and development, internet and digital marketing, IT consulting, cyber security and support, engineering training and product development.
Auxilium Technology prides itself on providing customers with personalized attention. They know how important each business' needs are and they exceed those needs. What makes them unique is their personal around the clock support and maintenance offered to their clients.
The Auxilium business improves every single day. Each day they gain customers and invest in new opportunities and new technologies to help the digital world see its potential.
They flourish off their client's success, all while building, implementing and executing digital marketing plans that produce a strong return on investment for their clients.
Giving back is part of the Auxilium Technology culture. They are actively involved with charities, communities, and environmental causes and take pride in their achievements.
Auxilium Technology has been a Gaithersburg-Germantown Member for four years and has supported and continues to support us in many ways. Learn more about Auxilium Technology at: www.auxiliumtechnology.com.
The GGCC is active in providing business-to-business networking opportunities throughout the year: a collective voice in local, regional, and state legislative affairs, professional development opportunities and other services that enhance the business environment.