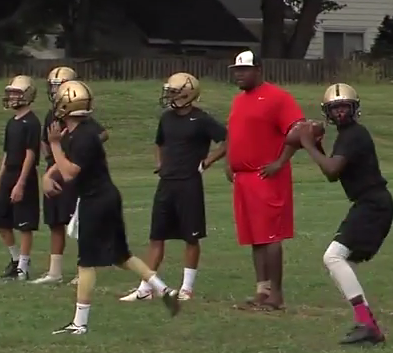 Avalon School Football Coach Kicks Off Season at New School (VIDEO)
As a football coach, Tyree Spinner was used to having a weightroom, a training room, suiting up nearly 50 guys on varsity and a turf field to call home. Now, as the new head football coach for the Avalon School in Gaithersburg, Spinner trains his team of 30 players on rented county fields, using local gyms for off-season training. But, he said he's fine with that.
Spinner took over the job as head coach this year from Tad Shields, who was pulling double duty as coach and financial officer for the small boys school that rents space in the back of a church in Gaithersburg. Spinner's last coaching job was at Thomas S. Wootton High School in Rockville. The upper school has 106 students, according to Headmaster Kevin Davern. Twelve of them point to Spinner as the reason they came, Davern said.
Spinners's team philosophy is "attitude and focus, the only things in our control" and he said football is just one part of the reason he likes the school.
"You have a small ratio of student to teacher which is good. The academics are good. The Avalon School is committed to helping create good men, husbands and fathers," he said. The football team competes in the Capital Area Football Conference.
Next year, Spinner is expected to become the athletic director at the school, with more time for student athlete recruiting, Shields said.