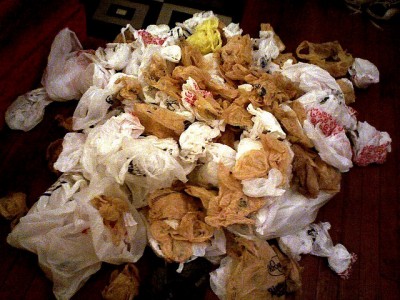 Bag Tax Public Hearing & Infographic (Photo)
The Montgomery County Council's Transportation, Infrastructure, Energy & Environment (T&E) Committee will hold a public hearing on making some changes to the scope of the bag tax at 7:30 p.m. on June 18. The meeting will be televised live on CCM Channels Comcast 6, RCN 6 and Verizon 30.
Proposed Bill 10-13 would limit the tax to those distributed at "food stores." Bill 10-13 on the bag tax is sponsored by Montgomery Councilmembers Roger Berliner, Nancy Floreen and Craig Rice. The bag tax, which went into effect on Jan. 1, 2012, currently is in place for most retail stores and for carryout food. The amended version would only have bill apply to purchases made at "food stores," which are defined as any retail store where food consists of more than two percent of gross sales by dollar value. The tax would continue to cover bags distributed at food stores for non-food items. Bill 10-13 would repeal the tax on plastic bags used for take-out food.
Check out our inforgraphic:


We want to know: how has the Montgomery County bag tax impacted your habits?