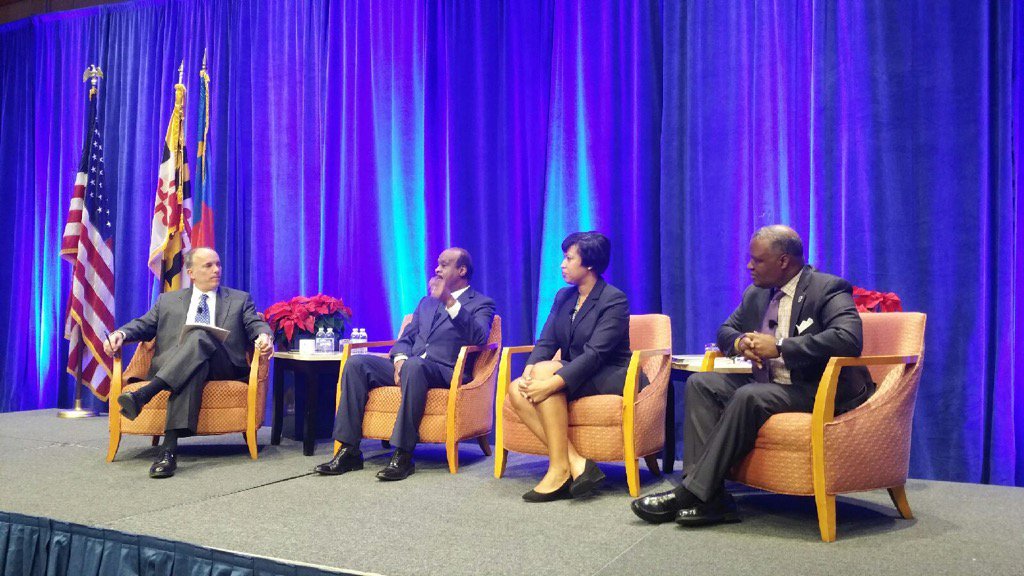 Baker, Bowser and Leggett Headline Committee for Montgomery Breakfast (VIDEO)
Hundreds of elected officials, government and business representatives, civic, non-profit and community leaders from Montgomery County and the State of Maryland attended the Committee for Montgomery's annual legislative breakfast on Dec. 16 at the Bethesda North Marriott Hotel and Conference Center.
This year's event was headlined by a regional economic development discussion featuring Montgomery County Executive Ike Leggett, Prince George's County Executive Rushern Baker and Washington, D.C. Mayor Muriel Bowser.
In this MyMCMedia Extra video, Leggett explains why their discussion was so important.
Montgomery County Council President Nancy Floreen also addressed the crowd as well as the chairs of Montgomery County's Senate and House delegations in Annapolis.
The Committee for Montgomery is a coalition of leaders representing a broad cross section of Montgomery County business, labor, education, civic and community based organizations. Its primary mission is to advocate in Annapolis on issues of importance to Montgomery County.
.@CoUnTy_ExEc @MayorBowser @CountyExecBaker discuss regionalism. #MoCo @mymcmedia pic.twitter.com/I2Xv44s9vZ

— Sonya Burke (@SonyaNBurke) December 16, 2015
.@CountyExecBaker mentions Purple Line and receives applause. @mymcmedia pic.twitter.com/6fkGmFEzWg — Sonya Burke (@SonyaNBurke) December 16, 2015
Delegate Shane Robinson says lawmakers must do something about drunk driving laws in MD. @mymcmedia @mcpnews pic.twitter.com/FpXHwgZg3y

— Sonya Burke (@SonyaNBurke) December 16, 2015
State Senator Nancy King notes it's her 14th year in Annapolis. @mymcmedia #MoCo pic.twitter.com/tOywjj4VtS — Sonya Burke (@SonyaNBurke) December 16, 2015
.@NancyFloreen begins comments by asking for moment of silence in memory of @mcpnews officer Noah Leotta. @mymcmedia pic.twitter.com/D6ETjLjH98

— Sonya Burke (@SonyaNBurke) December 16, 2015
Today's discussion focused on regional economic development. @mymcmedia #MoCo pic.twitter.com/ry3CO542NY — Sonya Burke (@SonyaNBurke) December 16, 2015
Organizers say 800 people are at today's Committee for #MoCo legislative breakfast. @mymcmedia pic.twitter.com/s8duIKzP1w

— Sonya Burke (@SonyaNBurke) December 16, 2015
Jacked up about @CFMontgomery #CFMbreakfast2015 wee early on Wed. morning! Hope my 3:30am alarm goes off! C u there? pic.twitter.com/Tjc7QIicW5 — Steve Simon (@sayssimonpr) December 15, 2015

Related Posts: