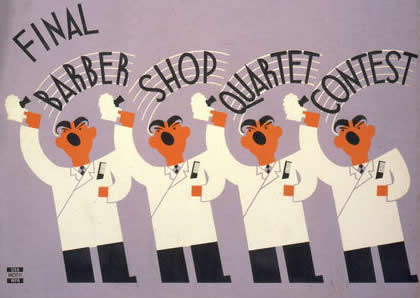 Barbershop Harmony: The Context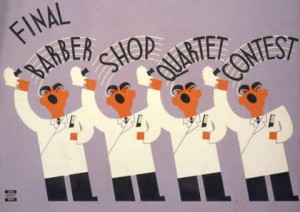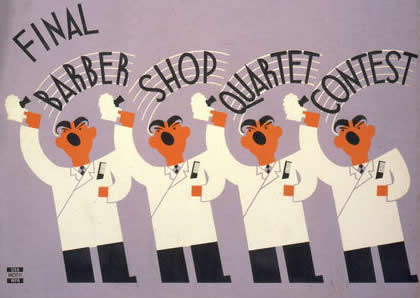 Harmony Express is a barbershop chorus with deep roots in the history of American music.  While the roots of barbershop harmony are not entirely clear, scholars suggest that it emerged from the African American community in the late 19th century, about the time that same creative community gave birth to jazz and the blues.  Is singing in four-part a cappella style the result of extemporizing harmonies in church, or did it arise in a more secular context, guys standing around the town square—or in the barbershop getting a haircut?  We may never know.
 In any case, barbershop is part of a very long tradition in both religious and secular music-making (see my post "The Barbershop Harmony Society").  It is also quintessentially American in its origins, a particular style of mainstream a cappella harmonizing with a close family relationship to singing groups from the 1940s Ink Spots and Mills Brothers to the doo-wop glories of the 1950s to the many choruses and quartets on stage today.
 Here is a partial list, chosen more or less at random, of a cappella performers in the Washington, D.C. area: the Chimes, Sons of the Severn, the Chromatics, Capital Assets, the Heart of Maryland, the GW Vibes, the Singing Capital Chorus, the UMW Symfonics, the Arlingtones, Word of Mouth, the Noctonals, Harmony Express, the GW Vibes, and the Alexandria Harmonizers.  Numbers 2, 5, 7, 9, 12 and 14 are barbershop choruses.  The others are a mélange of college and older groups, male, female and mixed.
 A few months ago, the Harmonizers did a show at the Lincoln Theater on U Street NW that featured a contest for local non-barbershop a cappella singers.  Word of Mouth won the $1,000 first prize.  It was a good night all around for barbershoppers and their close cousins in the a cappella music world.