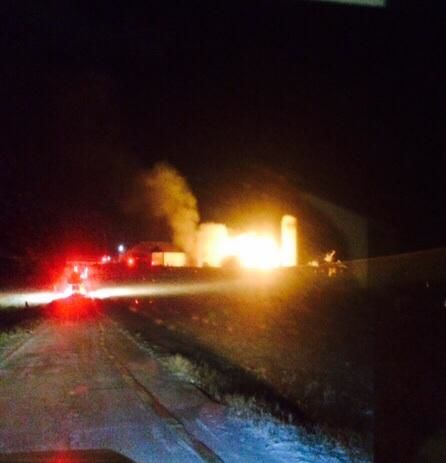 Twenty Pigs Perish in Barn Fire, Damage Estimated at $200,000 (PHOTOS)
UPDATED Montgomery County firefighters are investigating what sparked a barn fire on Sunday morning that occurred at W. Old Baltimore Road near I-270 and caused an estimated $200,000 in monetary damage.
Fire and Rescue Services Spokesperson said over 50 firefighters, along with tanker trucks full of water, responded to the blaze early on Feb. 15.
According to Piringer, 20 pigs perished in the barn fire.
Piringer said the barn was also full of hay.
No word on what ignited the fire.
ICYMI (5a) UpCounty Barn fire, loss >$200K, 40X60′ bldg, 20 pigs perished, hay bales destroyed, structure totaled, pic.twitter.com/rPeYrBSCDN

— Pete Piringer (@mcfrsPIO) February 16, 2015
More….W Old Baltimore Rd, Boyds, bulk of fire 'knocked down', exposure structures 'saved' FFs continue to wet down pic.twitter.com/T2GDTFOZFo

— Pete Piringer (@mcfrsPIO) February 15, 2015
U/D – 13100blk W Old Baltimore Rd, protracted incident, exposures protected, fire contained, but not out, no injuries pic.twitter.com/Nkr2Nticx6 — Pete Piringer (@mcfrsPIO) February 15, 2015