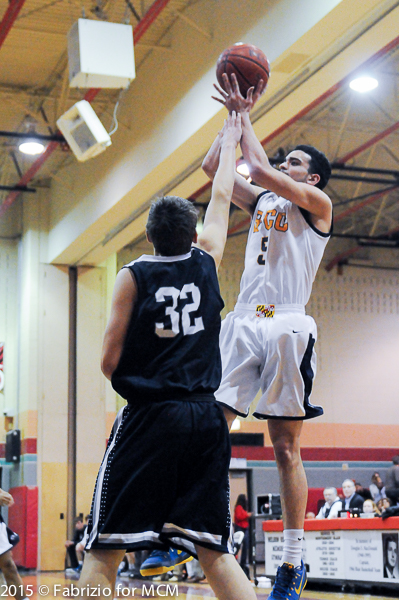 Barons Crowned as Boys Regional Champions (PHOTOS)
Bethesda Chevy-Chase (BCC) Barons escaped with the 4A West Boys Basketball championship with an overtime win over the Magruder Colonels 55-52 at Blair High School.
Barons team members and their fever-pitched fans were denied the pleasure of an on the court after game award ceremony because with 1.2 seconds left in overtime the officials and crowd control at Blair were overcome by the parents and students who stormed the court thinking that time had expired. Magruder's Carson Grayhill-Bland had just clanked a 3-point attempt with time running out at 2 seconds in overtime – forcing Magruder to committed a foul on BCC's ensuing rebound. Time stopped but the crowd did not.
Once the game officially ended at 55-52 both sides of the court were promptly exited from the arena and the team ceremony was performed inside the locker rooms.
Magruder took an early 1st quarter lead up by 3 with 3:14 left on that early clock but would fall behind to the fast paced Baron's by the end of one. At the half it was BCC up by 6 with a score of 29-23. BCC would not relinquish the lead until Magruder briefly grabbed it towards the end of the 4th quarter.
The 4th quarter was pivotal for each team as they both tried to throw knockout punches. Lead swings were no more than 2 points in either direction. With Magruder up by 1 at 48-47 Magruder's Joe Hugley fouled BCC's Tyhjai Byer on his drive to the basket with 51.2 seconds on the clock. Byer then made 1 of 2 free throws to tie the game at 48. Magruder retained possession then held the ball until 15 seconds left on the clock to set up a final play in regulation
Magruder set a play for Carson Grayhill-Bland who launched a contested 2-point attempt from the top of the key with 2.4 seconds on the clock. The Baron's rebounded Grayhill-Bland's miss and ran out time.
A four-minute overtime period garnered only 4 points between each team until the 15.4 mark when BCC' s Livio Caputo drove down the lane and scored over Joe Hugley putting BCC up by two at 54-52.
On the next series as time ran down Grayhill-Bland would miss his 3 pointer for the win and the Baron's celebration could begin.
Photo gallery follows.
Phil Fabrizio
@Photoloaf