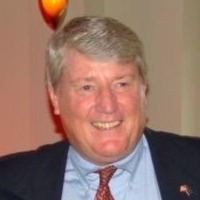 Barve: Speaker Mike Busch Was 'Greatest Leader'
Michael Busch was "the greatest leader I have ever known," said Del. Kumar Barve in a Monday morning interview.
"An incredible sadness has come over me and I haven't been able to shake it," Barve said.
Busch, who served as the speaker of the Maryland House of Delegates since 2003, died Sunday. He leaves behind his wife, two daughters and two sisters.
"I wish everyone had a chance to work with him as closely as I have," said Barve, who has represented a Montgomery County district comprising Rockville and Gaithersburg since 1991.
In 1991, both were assigned to the House Economic Matters Committee, where Busch eventually became chairman.
In 2003, former speaker Casper Taylor lost re-election, and Busch made calls to the other Democrats to secure his election to the speakership. Barve signed on to Busch's efforts immediately, he said.
Democrats hold a 98-42 advantage in the House, meaning they'll control who is the next speaker.
For today, which is the last day of the 90-day General Assembly session, Speaker Pro Tem Adrienne Jones of Baltimore County will lead sessions as lawmakers race through hundreds of bills before the midnight deadline.
A handful of names have been discussed as Busch's successor.
Jones might seek the position. Del. Maggie McIntosh of Baltimore, who chairs the House Appropriations Committee, is a likely candidate. As is Del. Dereck Davis of Prince George's County. Davis followed Busch as chairman of the Economic Matters Committee.
Some observers have speculated that the next speaker will likely be a woman or a person of color.
"History is calling there's no question about that," Barve said. "We have a good group of people to choose from. Among the prominent people, we have a number of people who can do the job."
Barve again brought up the sadness of the day.
"For any system of government to work, you need leaders who are fundamentally sound human beings," Barve said. Busch was that person.
This is a profoundly sad day for Maryland. Mike Busch was a giant in our government—the longest serving Speaker in our state's history. He cared deeply about improving the lives of Marylanders, and his legacy is evident in his many legislative achievements.

— Governor Larry Hogan (@GovLarryHogan) April 7, 2019
Effective immediately, Maryland flags will fly at half-staff in honor of Speaker Busch's distinguished life and legacy until sunset on the day of interment.

— Governor Larry Hogan (@GovLarryHogan) April 7, 2019
Speaker (aka "coach") Mike Busch's passing is a terrible loss for Maryland. Under his leadership, we have become a more inclusive and just community with greater opportunity for all. I was proud to call him a friend. Katherine and I send our deepest condolences to his family. pic.twitter.com/rF178YdLqI

— Chris Van Hollen (@ChrisVanHollen) April 7, 2019
We are heartbroken over the loss of Speaker Mike Busch.

A consummate legislator, a leader for the times and a brilliant man of conviction and courage, Speaker Busch invariably worked to cultivate a more inclusive and welcoming Maryland.

You will be dearly missed by so many. pic.twitter.com/1ffYVIqgLm

— Steve Hershey (@SenatorHershey) April 7, 2019
Grateful to the leader @SpeakerBusch was to me. Among many things, he alone (single-handed) assisted us in securing a brand new $1.2 million baseball field in heart of West Baltimore. We salute you Speaker Busch!!! 🙏🏽🙏🏽🙏🏽 #BaltimoreWillMissYou pic.twitter.com/sueFwZyJlf

— Senator Antonio Hayes (@AntonioHayes40) April 7, 2019
Very sad day for our State with the passing today of Speaker Mike Busch. He was a great Speaker, outstanding leader, mentor and friend to so many of us. Mr. Speaker, you will be truly missed. My thoughts and prayers are with his wife, Cindy, and his daughters Erin and Megan. pic.twitter.com/7wnNmTnEUv

— Brian J. Feldman (@BrianJFeldman) April 7, 2019