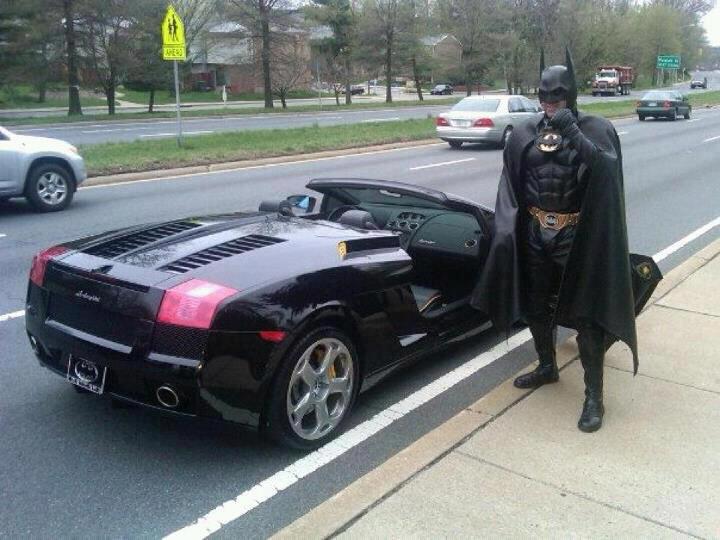 Route 29 Batman Killed After Being Struck by Vehicle on I-70 in Hagerstown
UPDATED A man known as the Route 29 Batman was killed in a traffic accident Sunday night in Hagerstown.
Maryland State Police said that 51-year-old Leonard (Lenny) Robinson was driving his custom made Batmobile, although he was not in costume, when he had engine trouble on eastbound I-70 west of Big Pool Road around 10:30 p.m. Sunday night.
According to a police account, Robinson was checking his vehicle's engine while standing in the fast lane of eastbound I-70 when his vehicle was struck by a Toyota Camry. Robinson, police said, died at the scene.
Troopers said the driver of the Toyota Camry was not injured in the collision. No charges have been filed.
In his Batman costume and behind the wheel of his Batmobile, Robinson easily brought smiles to the faces of passersby as he traveled to and from local hospitals and festivals.
On Monday, the official Batman Facebook page included a message about Robinson's death.
"Our thoughts are with the family and friends of Leonard Robinson, who shared his love of Batman with everyone around him."
Maryland's Batman became a viral sensation after a roadside encounter with Montgomery County Police (MCP) several years ago.
Montgomery County Police released a statement upon learning of Robinson's death:
"We are saddened by the news that Lenny B. Robinson, otherwise known as "Route 29 Batman," died yesterday in a collision.
"Our officers had the opportunity to meet Robinson in March of 2012, when his Batmobile was stopped on Route 29 in Silver Spring to verify his registration.
"It was an interaction that was captured on an officer's in-car camera. The Department uploaded the video to social media and the video went viral.
"The footage depicted a positive and humorous interaction between officers and Robinson. It was evident that the officers and Robinson had a mutual respect for each other and the job that each was trying to accomplish that day. The officers learned that Batman visited children at local hospitals and was on his way to a hospital in Washington, D.C. Robinson was a good sport about the traffic stop and took photos with the officers before he left. Good-old fashioned handshakes and laughter completed the roadside encounter and Robinson was on his way.
"Robinson was not much for attention and wanted to remain low-key as news reports of his interaction with MCP hit national and international news.
"When we replay the traffic-stop video, we smile and laugh, fondly remembering the day that MCP met a real superhero.
"We hope that the Dark Knight's bright light shines on."
We are saddened by news that Lenny B. Robinson, otherwise known as "Route 29 Batman," died yesterday in a collision:http://t.co/QVyrWLdXWF

— Montgomery Co Police (@mcpnews) August 17, 2015
Maryland's "Batman" struck, killed checking engine of Batmobile on highway. http://t.co/gNBsY02gFb pic.twitter.com/LakjAaHj0E

— The Baltimore Sun (@baltimoresun) August 17, 2015
Our thoughts are with the family and friends of Leonard Robinson, who shared his love of Batman with everyone around…

Posted by Batman on Monday, August 17, 2015