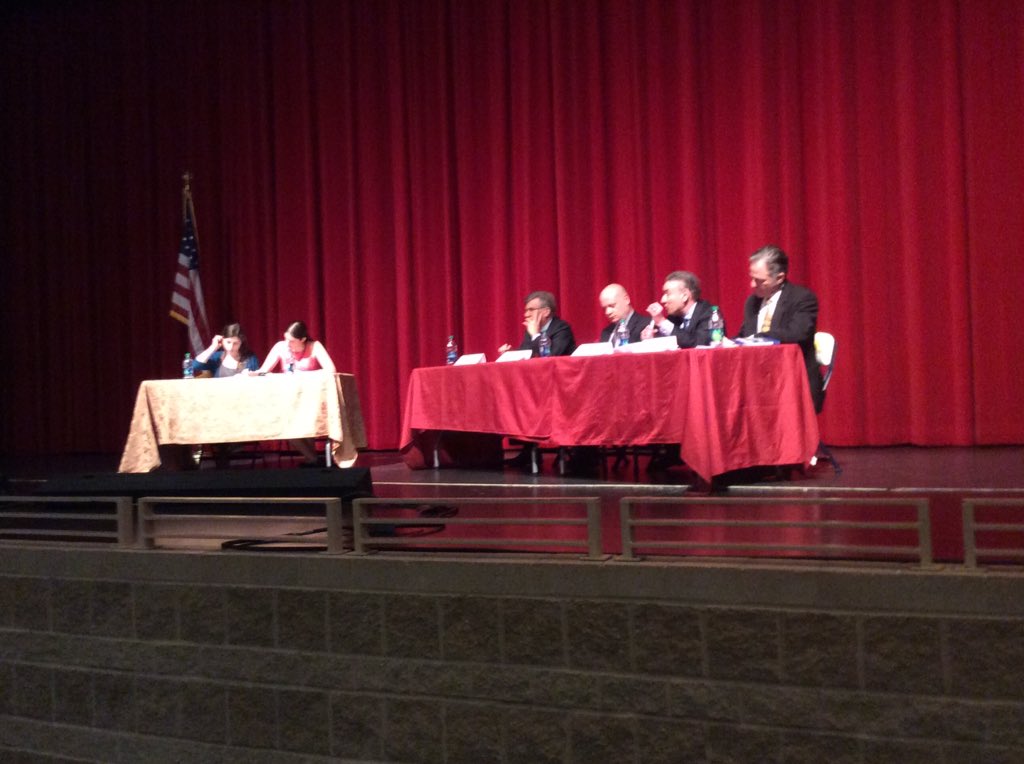 BCC's Student Newspaper Hosts Panel Discussion on Supreme Court (VIDEOS & PHOTOS)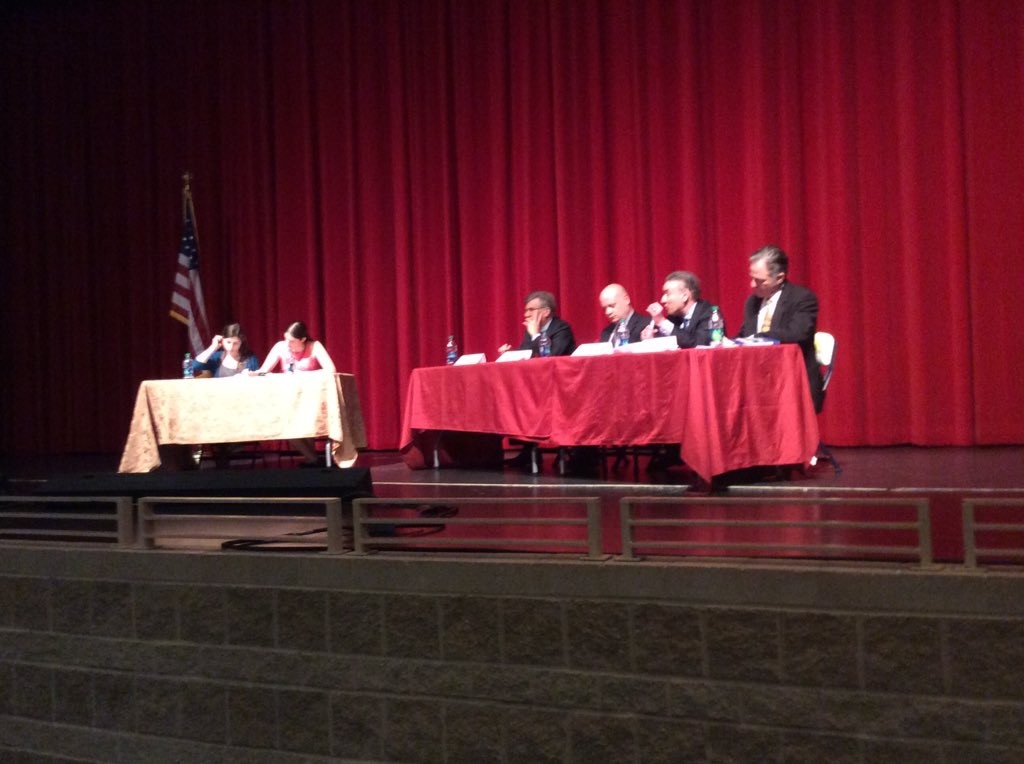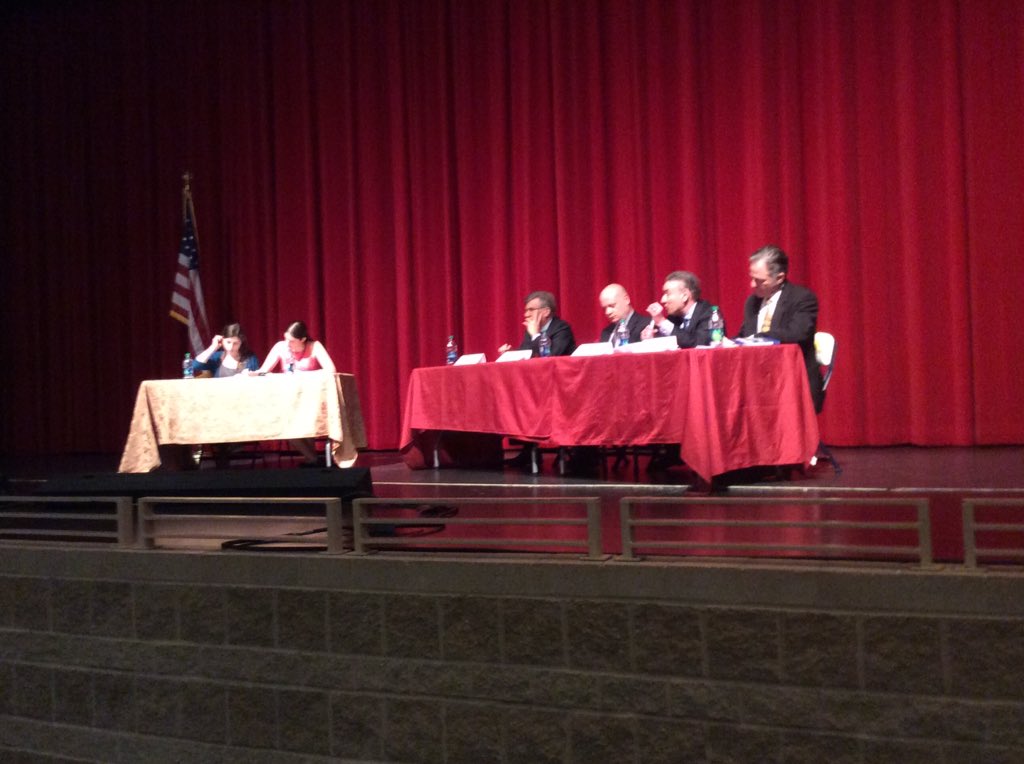 UPDATED Dozens of residents, including parents and students, attended a panel discussion about the Supreme Court controversy hosted by the Bethesda-Chevy Chase High School (BCC) newspaper, The Tattler on Wednesday night.
The panel, entitled "Full Court Press: A Town Hall Discussion on the Supreme Court, its vacancy, its reputation and its best path forward," was organized by BCC students with the help of The Tattler's teacher adviser, David Lopilato, and the schools parent group, Baron Pride.
"[The students] are incredibly wired into what's going on politically. We had discussions in class about the Supreme Court and it just came up, well why not invite people to talk about it," Lopilato said. "The students contributed to getting speakers and they did a great job," he said.
The impressive panel included Jess Bravin, Supreme Court correspondent for The Wall Street Journal, Charles Lane, opinion writer for The Washington Post, Rick Pildes, Sudler Family Professor of Constitutional Law at New York University, and Ralph Neas, former CEO and President of Generic Pharmaceutical Association. Neas also served as Chief Legislative Assistant to Senator Edward Brooke from 1973 to 1979 and Senator David Durenberger from 1979 to 1980.
Nina Totenberg, NPR's legal affairs correspondent, and Senator John Barrasso were originally scheduled to speak on the panel, but were unable to attend the event.
Topics ranged from the current debate over whether or not President Barack Obama should be able to appoint a justice to the future of the court.
The Tattler's Co-Editor and Chief Hannah Robinson and Publisher Maya Sterling moderated the event.
"I think it went really great. We had amazing panelists who were just so knowledgeable and so diverse in their experiences. It made it so easy for us as moderators because they had such insightful things to say," Robinson said, "it's a really great opportunity to have this event and to be talking to these esteemed panelists."
Sterling said the discussion about Supreme Court nominee Merrick Garland was a highlight for her.
"I think the comment about Merrick Garland and how qualified of a nominee [he is] was interesting to me. I don't think I was fully aware how much unanimous support among intellectuals there was for this judge," Sterling said.
Panelist Lane, who is also a BCC alum, says he was impressed by the moderators and discussion.
"These students were great. I was on The Tattler myself many years ago and I want to tell you that the quality of student journalist has gone way up since I was on the paper," Lane said. "These guys are smart, well informed, they were astute and most importantly they kept the discussion moving and they really ran the [panel] very well," he said.
Donna Redmond Jones is the principal of BCC.
"I'm constantly amazed by the students initiative at BCC and it's such a timely conversation and it just shows how important it is to be aware, active, and participatory in our government and what's at stake," Jones said.
According to Jones, BCC is celebrating 90 years and The Tattler is one of the longest running high school papers in the county.
Students are hosting another panel discussion, entitled; "Mediacracy: From Gallup Polls to Gotcha Questions," for their Journalism Night on April 11 at the Roundhouse Theatre in Bethesda. For more on The Tattler, visit the newspaper's website.
Moderators ask what would the impact on the court be if a democrat is elected? Panelist Charles Lane answers. pic.twitter.com/Sh9Z8ZetqK

— Maureen Chowdhury (@MediaMaureen) April 6, 2016
Next question: what are the implications of an 8 justice court? Panelist @JessBravin answers first. @mymcmedia pic.twitter.com/hAqT4xlL1F

— Maureen Chowdhury (@MediaMaureen) April 6, 2016
Panelist Charles Lane is a BCC alum. Also former managing editor of The Tattler. @mymcmedia pic.twitter.com/xE0nYUdUqE

— Maureen Chowdhury (@MediaMaureen) April 6, 2016
First question of the asks which party is right about the Supreme Court nomination process? Panelists discuss. pic.twitter.com/Q1o2K6iazp

— Maureen Chowdhury (@MediaMaureen) April 6, 2016
Student members of The Tattler are moderating the event. @mymcmedia pic.twitter.com/x6zZZfYVSl

— Maureen Chowdhury (@MediaMaureen) April 6, 2016
Panelists include journalists and experts in the field. @mymcmedia pic.twitter.com/IXo3KlNPOD

— Maureen Chowdhury (@MediaMaureen) April 6, 2016
The auditorium is filling up. Students say more than 200 people RSVP'd to the event. @mymcmedia pic.twitter.com/0Vuz3S912u

— Maureen Chowdhury (@MediaMaureen) April 6, 2016
Students from BCC HS will be hosting a panel on the Supreme Court Justice tonight. @mymcmedia pic.twitter.com/ITyuLYH800

— Maureen Chowdhury (@MediaMaureen) April 6, 2016