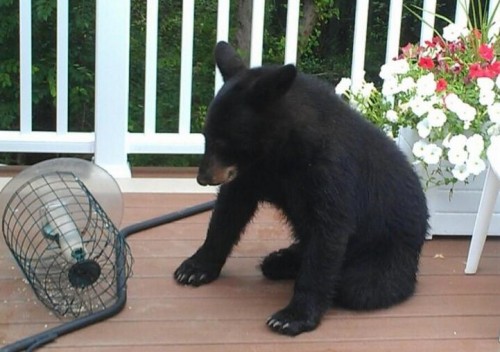 Bear Sightings in MoCo (Photos & Video)
UPDATED 6/21
The latest sighting of the black bear occurred at 8:30 p.m. on June 20 on Travillah Terrace near River Road, according to Ken D'Loughy of DNR. The report was called in by Montgomery County police. D'Loughy said this is good news because it means the bear is moving west towards his natural habitat.
UPDATED  6/20
A black bear, estimated to be about two years old, spent 40 minutes eating breakfast on the back deck of a Gaithersburg home on June 20. The homeowner reported the bear to police and shared this cell phone video with MyMCMedia:
Shortly after this video was taken the bear was also spotted on Keystone Court in Gaithersburg. Jean Withee told us she was surprised to see the bear while drinking her morning tea. The bear darted off through her neighbors's backyards, Withee said.
Montgomery County police and Gaithersburg police have received several bear report sightings this week.  Other calls to police about the bear were received on June 19 at Darnestown Road and Quince Orchard Road and on June 18 at Middlebrook Road and Frederick Road in Germantown. Local homeowners associations are notifying residents to be aware of their surroundings. (See more bear sighting reports below from our original post on June 19.)
The Montgomery County Police Department and Gaithersburg Police Department have consulted with the Maryland Department of Natural Resources (DNR) about the bear sightings and have been advised by DNR that bear sightings in suburban areas are not uncommon during this time of year. DNR advises that black bears may be seen at any time of the day and are typically not aggressive. Police officers have been advised to give the bears space if the bears are not being aggressive.
Here are some tips as well if you encounter a bear:
–If faced with a bear, give it space and ensure it has an escape route, do not approach or allow it to be surrounded or cornered ─ much like you would a stray dog.
–Do not feed it, and remove any food sources. Trash, birdfeeders and grills often lure bears into residential areas. If a bear is reported in your region, be sure to store these items in a secure place like a garage or a shed.
–Scare bears away by making noise (e.g. shouting, banging pots and pans, using air horns or whistles, etc.).
UPDATED 6/19
The city of Gaithersburg and the Kentlands Citizens Assembly have received reports of a bear sighting in the Kentlands community of Gaithersburg.
A photo submitted to MyMCMedia.org by the Gaithersburg Police Department shows what appears to be a bear running down a neighborhood street in front of a car.
Kentlands residents were advised of the bear sighting via a message posted on the Kentlands Citizens Assembly list serv:
"As many of you may know, there have been multiple sightings of a bear in Kentlands. The Gaithersburg Police and the Department of Natural Resources have been made aware and are confident that the bear will make its way back to its natural habitat. Be aware of your surroundings if you are out running or biking, and if you are a dog owner, please keep it on a leash at all times."
Gaithersburg Animal Control Director Lisa Holland said residents should report any bear sightings to the Department of Natural Resources (DNR).
Ken D'Loughy is a DNR regional manager. He said his office began receiving calls on June 17 about sightings in the Gaithersburg and Germantown areas. He said the bear has been spotted at Comus Road and 355, the Fox Chapel neighborhood in Germantown, the Kentlands community and today (June 19) at Muddy Branch Road and Great Seneca Highway.
He said, in his experience, the bear is probably a 2-year-old male, weighing anywhere between 80 -120 pounds. He said a bear can easily travel anywhere from 15-20 miles a day and the bear is probably looking to establish a territory of its own. He said bears will eat anything from insects to berries to food scraps from your garbage can. If you encounter the bear, you should stay far away or make a loud noise to scare it off.
O'Loughy said DNR is not actively tracking the bear but you can report sightings at his office by calling, 301.258.0817.
Related stories: