Bear Tranquilized at NIH in Bethesda (Video)
A bear took a stroll onto the National Institutes of Health campus in Bethesda and climbing up a tree near the Medical Center Metro station.
MyMCMedia's Valerie Bonk has the story.
He drew quite a crowd as the bear perched from his tree branch at the entrance to NIH on Rockville Pike.
"This is very exciting," said NIH employee Tammie Edwards. "Something to mix up the day." 
Fire rescue crews, police and medical personnel stood by as NIH employees were notified by email that there was a bear on the premises. Once they got the all clear, they tried to scare the bear out of its tree with firecracker-like devices.
And those with the Department of Natural Resources were hoping it worked, because plan "b" would be risky for the animal.
"We're not inclined to shoot a dart into him, it's not like it is on TV, no offense, they don't fall right over and in the event that you get a bad shot and you hit him in a place you don't want to, you'll kill him," said Paul Peditto with the Maryland Department of Natural Resources.
After close to three hours, the approximately 100-pound bear started his descent, climbing down the tree and heading through the woods on the NIH campus. 
Shortly after, police from DNR shot the bear twice with a tranquilizer.
"Frankly our goal isn't to make sure people in Montgomery County never see a bear," Peditto said. "We're going to respond to these somewhat emergent situations but generally folks in this part of the world have to get used to seeing bears. They're not going to be as common as raccoons but our bear population is slowly growing."
And they said over the next several weeks there could be more sightings in the area.
"This is what we're seeing as seasonal dispersal of black bear, this is a male," said Ken D'Loughy with the Maryland Department of Natural Resources. "It's not uncommon for them to go 80 to 100 miles from the area that they were born in and this has happened over the past 10 years on an annual basis, May, June, July we've had a seasonal dispersal of a bear like this into this area."
For the bear who was made famous on Twitter, gaining more than 1,500 followers in a parody account someone created, officials say he'll be just fine.
He was released back into the wild near the Potomac River.
Related: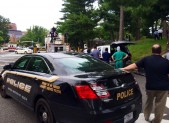 Update: MyMCMedia's Valerie Bonk reports the bear came down from the tree in response to the noisemakers and started running. Police with tranquilizer guns went after the bear, chasing it through the NIH campus. Original post: Police and fire rescue crews are on the scene at NIH where a black bear has been spotted in […]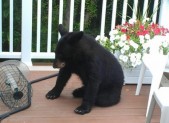 UPDATED Rockville police officers responded to a confirmed sighting of a black bear near downtown Rockville on Thursday morning. Major Michael England said the bear was last seen around 9 a.m. at Great Falls Road and Monument Court. He said a city employee initially spotted the bear earlier this morning. Officials say it is relatively […]