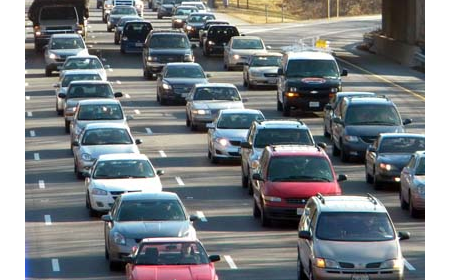 Beltway Backup
UPDATED All lanes are now open after an early morning back up on the Beltway between Connecticut Avenue and Georgia Avenue.
Fire and Rescue Spokesperson Pete Piringer says the accident involved a jackknifed tractor trailer and an overturned box truck on the eastbound (Inner Loop) lanes of I-495.
Hazardous materials crews were called to the accident scene to assist with the fuel cleanup.
Piringer said there were no injuries reported.
ICYMI – ALL Lanes OPEN IL Beltway between Connecticut Av & Ga Av, earlier wreck & fuel spill cleared up, good work @mdsha & #MCFRS HazMat

— Pete Piringer (@mcfrsPIO) May 28, 2015
ALERT – MO Co – I-495 Inner Loop near Georgia Ave 3 left lanes closed due to incident. Expect delays, plan alt. routes. #MdTraffic br

— MD State Highway Adm (@MDSHA) May 28, 2015
Update – IL I495 Beltway between Conn Av & Ga Av, box truck on it's side, leaking fuel from saddle tanks, #mcfrs HazMat & others on scene
— Pete Piringer (@mcfrsPIO) May 28, 2015
Update – Beltway btwn Conn Av & Ga Av, 2 vehicles involved w/ fuel spill, box truck on it's side & Jack-knifed tractor trailer, no inquires

— Pete Piringer (@mcfrsPIO) May 28, 2015
Update – IL 495 between Connecticut Av closer to Georgia Av, left side, overturned box truck (flowers) leaking diesel fuel, HazMat assisting
— Pete Piringer (@mcfrsPIO) May 28, 2015