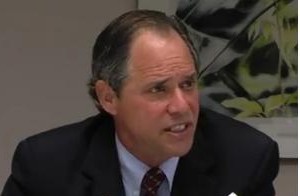 Berliner & Bulova Call for I-495 Improvements
Calling the Capital Beltway between the Dulles Access Road in Virginia and the I-270 West Spur in Maryland "one of the most congested highways in the Washington Metropolitan Area," Montgomery County Council President Roger Berliner and Fairfax Board of Supervisors Chair Sharon Bulova today jointly wrote to the respective transportation secretaries of Maryland and Virginia seeking action to improve Interstate 495 on the American Legion Bridge and its approaches.
The legislative leaders of the two largest counties in the metropolitan area wrote that they were concerned that with the Beltway's High Occupancy Toll (HOT) lanes scheduled to open soon, there is no planned action to provide an exclusive connection for carpools, vanpools, and buses on the Beltway between the northern terminus of the HOT lanes and the I-270 West Spur (the southern terminus of the I-270 HOV lanes):
"In order to maximize the potential of the existing HOV lanes and imminent HOT lanes, we request that the two DOTs work together to provide a plan for connectivity for this 7-mile segment that would go into operation as soon as practical."
The legislative leaders reached this conclusion following an extensive set of briefings and discussion of this issue at a joint meeting of Councilmembers and Supervisors on July 25. It was the first-ever meeting between Montgomery and Fairfax elected officials on this issue.
"I am pleased with the renewed spirit of cooperation between Fairfax and Montgomery and the joint recognition that, together, we must improve transit options and overall connectivity between our borders," said Council President Berliner. "While Montgomery and Fairfax Counties will continue to lead this effort, we hope our respective states will take the necessary steps to improve this vital corridor for the region and improve the quality of life for residents of both jurisdictions."
"I am greatly pleased by this cooperation between Fairfax and Montgomery and this joint recognition that we must improve connectivity between our borders to help address many types of problems shared by jurisdictions around the Beltway," said Council President Berliner. "With Montgomery and Fairfax taking leadership in this regard, we are taking an important step to show how we can improve the quality of life for our counties by working together."
"With the completion of the Beltway Express Lanes later this year, we absolutely must pursue opportunities to facilitate travel between our two Counties," said Chair Bulova. "Fairfax County is excited about introducing new cross-county express bus service in the soon-to-be-completed lanes. Providing car pool and transit options between Fairfax and Montgomery Counties would be a great benefit for our residents and commuters."