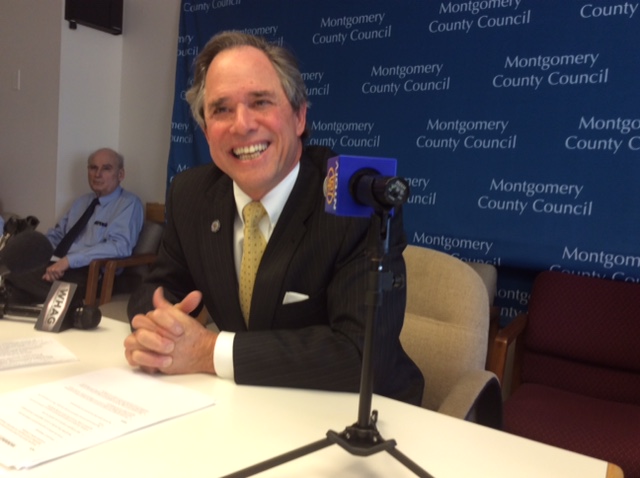 Berliner Discusses Immigration, Bethesda Plan, Minimum Wage, Metro, Microgrid and More at Weekly Briefing (VIDEO)
Montgomery County Council President Roger Berliner discussed immigration, the Bethesda Downtown Plan, minimum wage, Metro, his support for the microgrid and more at his weekly briefing with reporters on Feb. 6.
Immigration was the first topic on his mind as he passed out a joint statement that was issued by the county's elected leaders last week about life in Montgomery County following President Donald Trump's recent executive orders. The leaders want residents to know that the orders will not change the way police officers or county workers interact with the public locally and Berliner said he is spending a lot of time on this issue.
Next week, Berliner said the Council will have a panel discussion about how Montgomery County handles hate crimes and extremism to showcase the work that has been done locally.
"I thought it was important to bring this panel together because some of the work that has been done, led by our Muslim community, is now the model for the world," Berliner said. "We have reason to be proud of the work we do in Montgomery County."
Also, on the Council's agenda: the Bethesda Downtown Plan. On this topic, Berliner said school capacity is a issue that he cares about deeply and said that is why he supports a staging policy. He noted that capacity is a real issue at Bethesda-Chevy Chase High School because it sits on such a small plot of land.
As for minimum wage, Berliner said he will not support a state bill by Delegate Derek Davis that would ban municipalities and county governments from raising the minimum wage in their jurisdictions. Berliner said he would be testifying tomorrow against the bill. According to Berliner, the County Council will pass a minimum wage law this year.
"Our county should have the right and the responsibility for addressing our residents' needs," Berliner said on the topic of the Davis bill.
On Metro, Berliner said local leaders are sending a letter to Jack Evans, chairman of WMATA, urging transit officials not to balance their budget with fare increases and service reductions. He also shared his support for Paul Wiedefeld, Metro's general manager.
On another topic, Berliner expressed his support and appreciation about news that the county is moving forward with a public-private partnership on microgrids.
During the news briefing, Berliner was asked about a closed door meeting the Council was having on the Silver Spring Transit Center on Monday afternoon. Berliner said he could not talk about the executive session. He then fielded some questions about a Feb. 7th agenda item on the Silver Spring Transit Center.
You can watch the briefing in its entirety, below:
.@RogerBerliner news briefing now underway–discusses immigration, Bethesda plan, microgrid, minimum wage & Metro. pic.twitter.com/jhAwdRxLQ7

— Sonya Burke (@SonyaNBurke) February 6, 2017