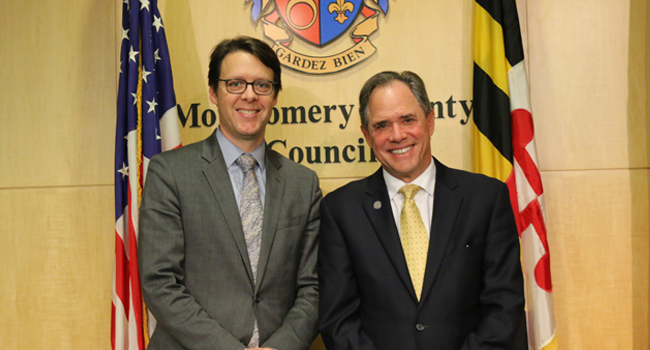 Berliner Elected as New County Council President, Riemer is VP (VIDEO)
UPDATED Montgomery County Council members unanimously elected Roger Berliner as president of the Council on Tuesday morning. Council member Hans Riemer was elected as vice-president of the Council. Berliner succeeds Nancy Floreen as Council president. MyMCMedia's Sonya Burke reports:
During his remarks at the dais, Berliner thanked his colleagues for their support and said he looks forward to working with each of them in the year ahead.
"Fortunately, we do not need to make Montgomery County great again," said Berliner. "My priorities for the year ahead to help us fulfill our county's extraordinary promise, include: getting the basics right; serving as a model inclusive community; expanding the ladder of opportunity, and creating vibrant communities."
Berliner, who represents Council District 1, served as Council vice president for the past year. He is beginning his 11th year on the Council and previously served as Council president in 2011-12.
Riemer, the Council's lead member for digital government, is beginning his seventh year on the Council as an at-large member.
In an interview with MCM, he said he's excited about his new role.
According to a Council news release, Riemer has been a strong advocate for funding public education and public transportation, early childhood programs, libraries, recreation, human services, housing and economic development. He recently chaired the Council's Ad-Hoc Committee on Liquor Control that sought to reform the County's program of alcohol distribution.
New Council VP @hansriemer & Council President @RogerBerliner during a @MoCoCouncilMD recess today. @mymcmedia pic.twitter.com/kPFsQYglsf

— Sonya Burke (@SonyaNBurke) December 6, 2016
.@RogerBerliner says there's work to do to "fulfill our county's great promise." Says he's honored to lead Council. pic.twitter.com/Cwdg17EW3c

— Sonya Burke (@SonyaNBurke) December 6, 2016
.@RogerBerliner thanks @NancyFloreen for her leadership & service. @mymcmedia pic.twitter.com/iQmP4keybp

— Sonya Burke (@SonyaNBurke) December 6, 2016
.@hansriemer elected Vice President of @MoCoCouncilMD. @mymcmedia pic.twitter.com/yt1MRhiGsa

— Sonya Burke (@SonyaNBurke) December 6, 2016
.@georgeleventhal nominates @hansriemer as Vice President of @MoCoCouncilMD. @mymcmedia pic.twitter.com/paKOsfTouR

— Sonya Burke (@SonyaNBurke) December 6, 2016
.@RogerBerliner elected unanimously as president of @MoCoCouncilMD. @mymcmedia pic.twitter.com/yvdYygYcWp

— Sonya Burke (@SonyaNBurke) December 6, 2016
.@nancy_navarro nominates @RogerBerliner as president of @MoCoCouncilMD. @mymcmedia pic.twitter.com/HF37FNQC7J

— Sonya Burke (@SonyaNBurke) December 6, 2016
Applause follows @NancyFloreen's remarks at dais. @mymcmedia pic.twitter.com/PkzEFaQvkH

— Sonya Burke (@SonyaNBurke) December 6, 2016
.@NancyFloreen recaps her year as president of @MoCoCouncilMD. @mymcmedia pic.twitter.com/PVSznIk6kl

— Sonya Burke (@SonyaNBurke) December 6, 2016
.@MoCoCouncilMD meeting is now underway. Today's agenda.@mymcmedia pic.twitter.com/TZW2N3uRym

— Sonya Burke (@SonyaNBurke) December 6, 2016