Berliner Talks Minimum Wage, Bethesda Plans, E-Permit Parking Problems, Marriott, DLC, Metro and More at Weekly Briefing (VIDEO)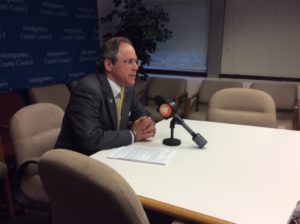 Montgomery County Council President Roger Berliner told reporters today that he believes Montgomery County Executive Ike Leggett is going to veto the Council's legislation that would increase the minimum wage to $15 by 2020.
You may remember the Council voted 5-4 last week to pass the legislation. Berliner was one of the four Councilmembers (Nancy Floreen, Sidney Katz and Craig Rice) who voted to oppose the bill.
According to Council staff, Leggett has one more week (Jan. 30) to veto or sign the legislation. If he does nothing, the legislation goes into effect.
At his weekly briefing on Monday morning, Berliner talked about the status of the minimum wage legislation and other issues, including the Bethesda Downtown Sector Plan, electronic permit parking problems in residential neighborhoods, Metro, the Women's March, the latest on small cell antennas, Marriott and more.
You can watch the briefing in its entirety, below:
.@RogerBerliner newser underway–begins w min wage. Says if CE Leggett vetoes it, conversation is reset. @mymcmedia pic.twitter.com/s6Or6yNY8F

— Sonya Burke (@SonyaNBurke) January 23, 2017
.@RogerBerliner talks about enhancing life in Bethesda. There is a work session on downtown plan today. @mymcmedia pic.twitter.com/p9z3K9k12r

— Sonya Burke (@SonyaNBurke) January 23, 2017
@RogerBerliner notes that Council is likely to make changes 2 #Bethesda Sector plan 2 protect residential areas. pic.twitter.com/IICg8CPEBi

— Montgomery Council (@MoCoCouncilMD) January 23, 2017
.@RogerBerliner says leaders are hearing from residents w concerns about electronic permit parking in residential neighborhoods. @mymcmedia

— Sonya Burke (@SonyaNBurke) January 23, 2017
.@RogerBerliner gives kudos to @LarryHogan for support of Metro & Purple Line. @mymcmedia

— Sonya Burke (@SonyaNBurke) January 23, 2017
@RogerBerliner notes @MoCoCouncilMD is doing everything it can 2 minimize impacts of cell towers on neighborhoods. pic.twitter.com/bRq01GH6bF

— Montgomery Council (@MoCoCouncilMD) January 23, 2017