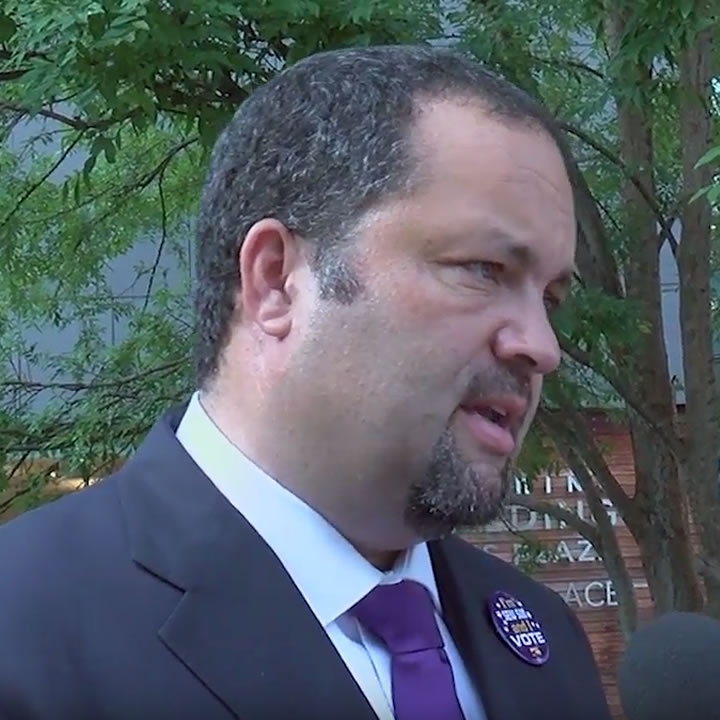 Bernie Sanders Endorses Ben Jealous in Silver Spring
In speeches that seemed one part politics, one part religious revival, progressives descended on Silver Spring on Thursday morning to hear Sen. Bernie Sanders endorse Ben Jealous in the Maryland governor's race.
"We are gathered today on Trump's doorstep to let the world know, we intend to get rid of his doormat," Jealous told the crowd. About 700 people attended the event at the Silver Spring Civic Building, according to organizers.
Jealous is the former president of the NAACP.
In his address Jealous said he would make state universities tuition free, starting with community colleges. To pay for it, he said he would end mass incarceration.
He also said the state can pass single-payer health insurance, which could be paid by closing corporate loopholes and forcing "big box" retail stores from paying the same taxes as other Marylanders.
He also said he would make sure casino money would enhance public education.
"People say, 'Are you running to the left or running to the right?' I say, 'I'm running to the people,'" Jealous said.
Many in the crowd were wearing T-shirts supporting Sanders.
Ron Cameron and Cindy London drove from Annapolis. They considered both Jealous and Sanders "wonderful" but added, "Bernie is amazing."
"They understand the people are hurting," London said. "People have trouble with health care. People have trouble with their bills. They know people need a higher living wage. It's completely lost on the highest levels of government."
When Sanders emerged from a room behind the stage, the crowd chanted, "Bernie! Bernie! Bernie!"
His first words: "It sounds like Maryland is ready for a political revolution."
Sanders' speech hit on a number of progressive themes: inclusion, political engagement, child care, low-wage jobs, opioid addiction, a $15 minimum wage, gender pay equity, infrastructure, guaranteed health care, education, affordable college, criminal justice reform and climate change.