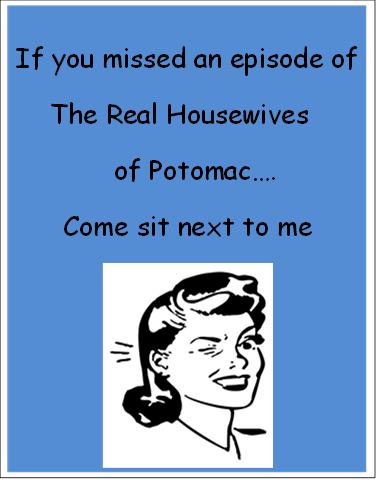 Bethany Blues: The Real Housewives of Potomac (RHOPo) Week 6 Recap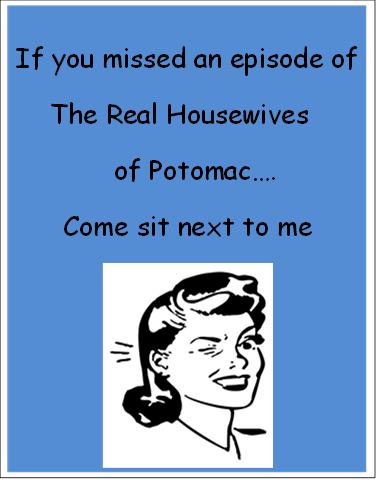 In honor of The Real Housewives of Potomac (RHOPo) Oscar's hiatus last week, this will be an all-cinematic recap of Week 6.
We opened the show with I-can't-get-a-ring-so-I'm focusing-on-my-charity Katie. She was meeting some of the gals to ask for fundraising help but mostly she just needed an excuse to use the phrase "my foundation" repeatedly.
Katie went all "Peter Pan" I think I can fly on the ladies by announcing over lunch that she wanted to raise a hundred grand in three weeks with no venue or guest list.
She was treated to the dull stare of the dairy cow three times over. Gizelle, Robyn and Ashley rationalized with Katie warily like hostage negotiators, gently pointing out the flaws in her plan while backing away. Katie surrendered and sunk down in the fancy, leather banquette and pouted like all CEO's.
Details, people. Details are for commoners who don't "believe" like Katie. She has never failed at anything–well except that pesky Andrew situation– and besides don't they know she has a foundation?
Katie channeled her inner Cruella Deville and, because sanity is over rated, simultaneously fired and uninvited her only committee members. She ignored everyone in favor of her drink which never disses her and knows its place.
Suddenly free of committee duties, Ashley unveiled her plan to host the obligatory Housewives trip where the wheels come off the happy bus every season.
Snippy, it's what's for lunch.
Ashley's Bethany abode will serve as the Bates Motel on this "Psycho" trip. It is a 4-day jaunt but the women packed steamer trunks so the literal baggage was on par with the figurative baggage.
Last episode Karen had to decline Katie's request for help with her charity event. Don't judge her; she has her own project, dammit! It's the "My Fair Lady" project AKA the transforming Ashley from cub to cougar mentorship program.
It's hard to take Karen seriously as she blathers on about Ashley's great need for guidance in the confessional shots. Maybe the hot pink, cleavage busting gown she was half-wearing was the problem. Think Pamela Anderson in "Barbed Wire" with less fabric. Her mammaries posed a credible threat of escape so her words are lost in miles and miles of décolletage.
Anywhoo, showing once again they are just like us, those Potomac girls piled into an SUV and head to Bethany. Well, except Ashley and Karen. Karen is clearly trading mentorship for chauffeured rides from her little Eliza Doolitle. The pair cruised to the beach in Ashley's smokin' convertible but sadly, Karen's panic about the state of her weave kept the top up and took a little rev out of Ashley's engine.
Like a scene from "Are We There Yet?" the long suffering SUV passengers whined about the endless 3-hour trip in the middle of nowhere.
As a veteran of that trek, I never once felt in danger of getting lost in the wilds of Sussex County off a two lane road like "Children of the Corn."
By the time the cranky SUV crew arrived, Ashley had already shown Karen her lux digs with her own bed, natch. Karen greeted the late arrivals in a dressing gown she borrowed from the set of "Mommy Dearest" setting off alarm bells among the group.
No one was super impressed by the accommodations despite the professional chef and ocean view. Poor Ashley, stuck on the JV squad in the high school from hell.
Charrisse had a "Gone with the Wind" moment and fiddledeedee the signature drink wasn't adequate and the food was subpar. She and Gizelle threatened to flee Tara upon discovering the kiddie-sized bed picked specially for them.
Ashley even made nametags in the first nod to Pinterest in Housewife history. But, damn, she was a few consonants short on Charrisse's tented bed card, forcing Charrisse to Google area hotels to no avail.
Day two at the beach began like every vacation at the Delaware shore; with surf lessons. I mean who hasn't been regaled with stories about the legendary, tubular, radical surf beach known as Bethany?
Despite a mountain of luggage, there was not one wet suit in sight. Anyone who watched "Gidget Goes Hawaiian" knows serious surfers wear bikinis and Gucci sunglasses.
Exhausted from keeping their privates contained in micro-kinis while repeatedly flipping off their boards, the group headed to Chez Ashley for a crab feast.
Determined not to repeat the crab incident from Episode 2, they set off to purchase cooked crabs. Guess the chef decided to hop off the crazy train leaving the women "Cast Away"; adrift in an unfamiliar culinary world.
After getting some aggression out with crab mallets, and a deep discussion about farting, Charrisse was all warm and fuzzy. She suggested a Sister Circle. Apparently, NBA wives share this Kumbaya moment when they tire of counting their millions.
The women gathered close, like in the "Sisterhood of the Traveling Pants" and began to dig deep and bear their diamond studded souls.
Unfortunately, the exercise began with everyone saying something nice about someone at the table leading to a volley of backhanded compliments with not a drop of sincerity in sight.
Gizelle speaks up first and reveals a poignant moment when some herbal tea gave her loose bowels during a private moment with her man.
Crickets. There was really nothing to add to that story.
This is not how it went in "Waiting to Exhale" dammit and the ladies knew it.
That twin bed had Gizelle's head all spun around.
Charrisse showed Gizelle how it's done by getting honest about her marriage and pending divorce. Then Karen chimed in with concerns about her mother's dementia. These ladies are, dare I say it, endearing? Are they finally putting the real in Real Housewives?
Nah.
BRAVO returned to form and gave us another dose of Karen in her fuschia, boob filled, dress and we are shallow again; right where we belong.
Phew.
Next week the Sister Circle promises tears and trauma and trashing as Ashley's husband crashes their "Steel Magnolia's" weekend.