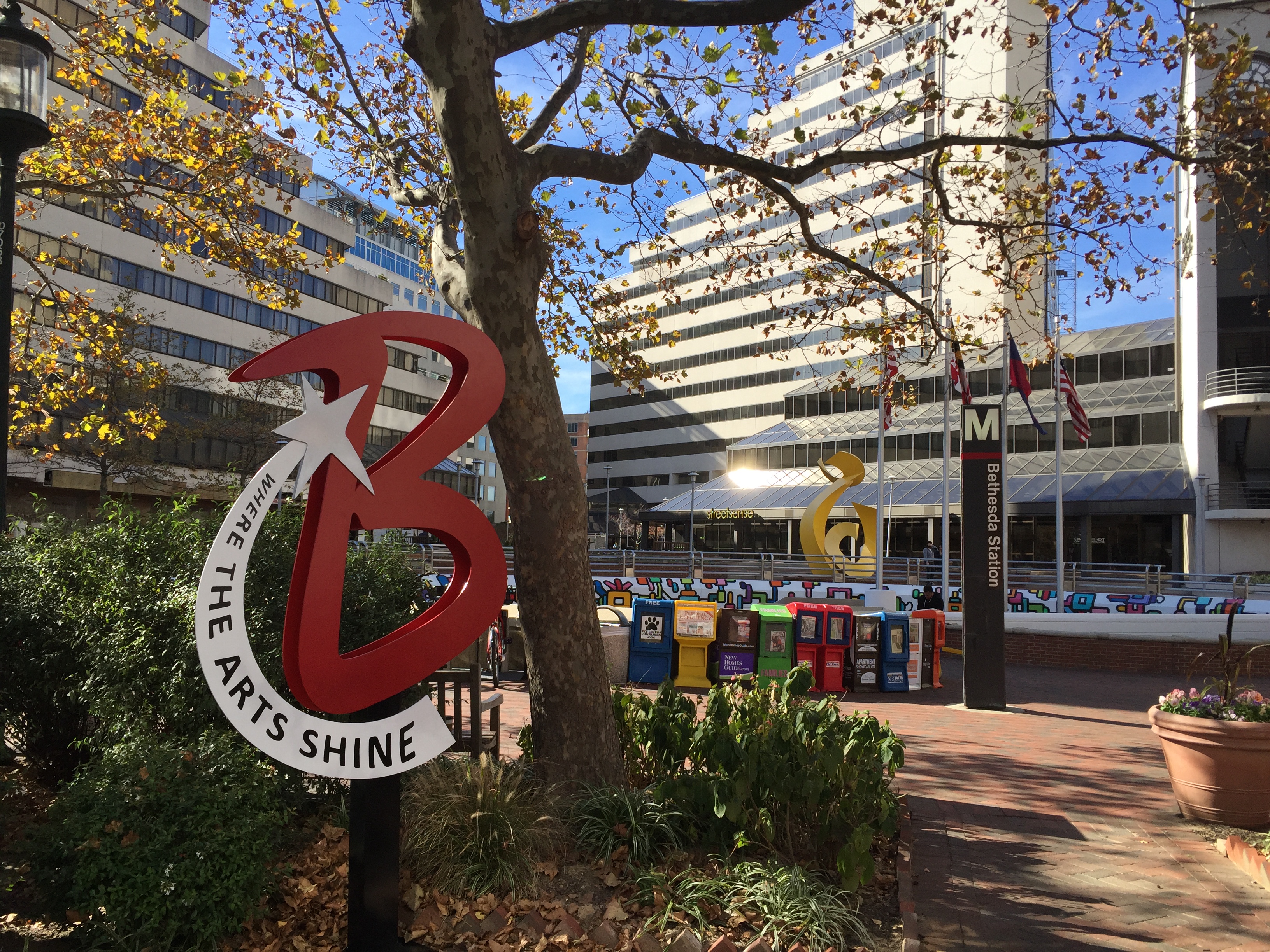 Bethesda Arts and Entertainment District Unveils New Sculptures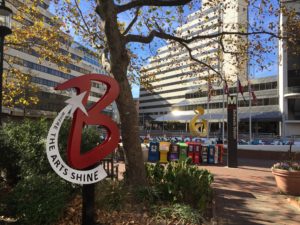 The Bethesda Arts & Entertainment District is fulfilling its commitment to public art by unveiling a new series of sculptures throughout downtown Bethesda. The thirteen aluminum sculptures, designed in the shape of a B, are being installed near Bethesda's arts and entertainment venues as well as throughout downtown Bethesda to highlight venues as well as brand Bethesda as an Arts & Entertainment District.
"We are pleased to now have a piece of art that signifies Bethesda as a destination for the arts," said Cathy Bernard, president of the Bethesda Arts & Entertainment District, "Bethesda is proud of our state-designated Arts & Entertainment District, our arts venues and our programs that honor and support regional artists. These sculptures celebrate and promote the many local organizations that encourage and foster arts and cultural programming downtown."
A dedication of Sculpture B was held at Veterans Park on Thursday morning.
The sculptures were made possible by a grant from Montgomery County. According to a news release, 21 local organizations contributed to this project and the Bethesda A & E board raised $50,000 for the project, which the county generously matched.
The following individuals and organizations contributed to this project:
Bernard Family Foundation
The Bernstein Companies
Bethesda Urban Partnership
Central Farm Markets
Chevy Chase Land Company
The Donohoe Companies
EagleBank
Fred & Starr Ezra
Greenhill Realty
Jane Fairweather Team/Coldwell Banker
LA and LK Greenberg Charitable Foundation
Lerch, Early & Brewer
Linowes and Blocher
Mark Kramer Architects
Zachary & Janna Oxman
Polinger Company
Stage 2 A/V Productions
TD Bank
The Tower Companies
United Bank
Vamoose
The sculptures are installed at the following locations:
7200 Wisconsin Avenue
Bethesda Library, 7400 Arlington Road
Bethesda Metro, corner of Wisconsin Avenue and Old Georgetown Road
 Bethesda Urban Partnership, 7700 Old Georgetown Road
Corner of Bethesda & Woodmont Avenues
Corner of Fairmont & Norfolk Avenues
Corner of Norfolk & Del Ray Avenues
Corner of Wisconsin Avenue and Bradley Boulevard
 Corner of Woodmont Avenue and St. Elmo Avenue
Gallery B, 7701 Woodmont Avenue
Imagination Stage, 4908 Auburn Avenue
Round House Theatre, 4545 East-West Highway
Veterans Park, corner of Norfolk and Woodmont Avenues
You can find more information, here.