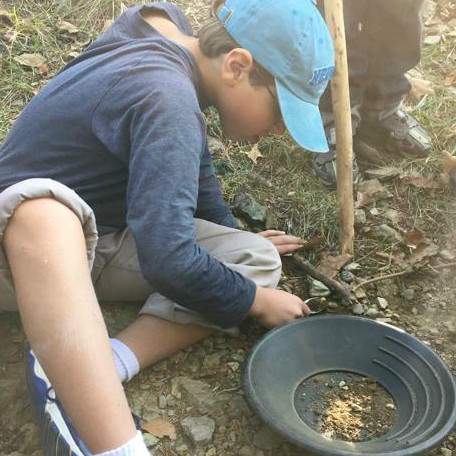 Bethesda Boy Rocks State Mineral Hearing
A 10-year-old Bethesda boy with a passion for geology has a lobbyist and two Montgomery County lawmakers in his corner for making chromite the state mineral.
David Shore testified Tuesday before the Senate Education, Health and Environmental Affairs Committee in Annapolis in support of the legislation.
"It truly represents Maryland heritage and state history, and I think Maryland's state mineral should be chromite," David said.
Chromite, or iron chromium oxide, is used in tanning leathers, and in making stainless steel and chrome plating. It's used to make chrome yellow paints and dyes, which are used on school buses and the yellow stripes on highways. It helps alloys resist high temperatures, and manufacturers employ chromite in jet engines, ovens and other appliances.
It's so important, David said, the United States maintains a chromite stockpile.
It was first discovered in the country in Baltimore County and from 1820 to 1850, Maryland produced most of the world's chromite. It is found in six Maryland counties, including Montgomery.
Maryland has more than 20 state symbols, including a state boat (the skipjack), a state dessert (Smith Island Cake), a state dinosaur (Astrodon johnstoni), a state dog (Chesapeake Bay Retriever), a state drink (milk) and a state exercise (walking), but no state mineral. Twenty-six other states have established state minerals, but no other claims chrome, he said.
He completed his testimony by wishing the committee members a "chrome-tastic day."
David, a fourth-grader at the TLCI School, said, "I'm pretty sure I want to be a geologist when I grow up."
The Senate measure is sponsored by Sen. Craig Zucker, a Brookeville Democrat. Del. Bill Frick, a Bethesda Democrat, is sponsoring the measure in the House.
Frick met David a few years ago when the boy was testifying against a measure that would make the sale of fossilized teeth a felony. Frick, he said, has been "chrome-tastic" since then, and introduced him to Ashlie T. Bagwell, of the lobbying firm Harris Jones and Malone.
The fossilized tooth bill, by the way, was "tabled," he said—a sign that even as a 7-year-old, he had some Annapolis cred.
"He knows a lot about chromite," Bagwell said. "We met for an hour and a half and he told me all about it." Bagwell helped him be prepared for Tuesday's hearing.
Frick is sponsoring the House bill, which will hold a hearing March 15.
At the Senate hearing, state geologist Richard Oort said chromite was an important part of the country's post-colonial industrialization.
"Without chromite, the development of steel would not be as advanced as it is today," he said.
In a telephone interview, David said he was at a Future Rockhounds of America meeting, where the speaker discussed state symbols, and that Maryland hasn't chosen a state mineral. His home is on top of a closed gold mine, which he thought might be a good choice, but four other states already have gold as a state mineral, he said.
His second choice was quartz. "It's abundant in our state, but it's abundant throughout the world," he said.
He thought chrome was a logical choice because it's more strongly attached to Maryland's history.
"It makes a lot of sense when you think about it," he said.
You can see David's testimony here.