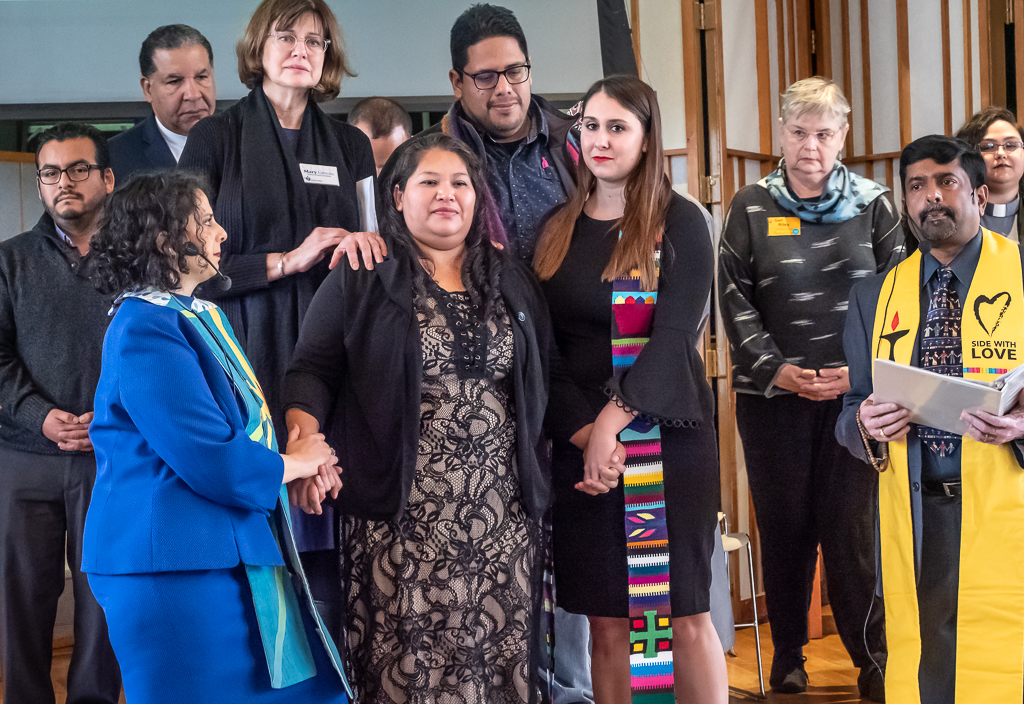 Bethesda Church Providing Sanctuary for El Salvador Mother
Rosa Gutierrez Lopez remains at the Cedar Lane Unitarian Universalist Church in Bethesda, finding sanctuary from federal agents who want to deport her to her native El Salvador.
"We are approaching it both as an act of faith and as an act of faithful resistance," said the Rev. Abhi Janamanchi, senior minister at the church. "In the face of hatred, we feel compelled to show faith, love and hospitality. It is not only a religious imperative. We are living out the ideal and the idea that is America."
The Rev. Mansfield Kaseman, the interfaith community liaison for the Montgomery County Office of Community Partnerships, noted the season the sanctuary was provided.
"We know our own humanity is inextricably connected with those who, like the holy family during the Christmas season we celebrate, deserve shelter and the protection and the welcome of being at home," he said.
Gutierrez Lopez, whose home is in Fredericksburg, speaks little English and wasn't available for a telephone interview. She has three American-born children.
WTOP reported that Gutierrez Lopez had come to the United States seeking asylum, saying she was ordered deported in 2014. Further interaction with federal immigration authorities followed, which led to a Dec. 10 order that she be ordered to leave the country.
A lawyer is trying to reopen her case, the radio station said.
Both Janamanchi and Kaseman said police, including Immigration and Customs Enforcement, have been notified that Gutierrez Lopez is at the church.
Janamanchi said ICE policy would prevent federal agents from entering a religious place where someone has sought sanctuary.
Kaseman said the Montgomery County police has assured the church it would provide protection, offer security and peace of mind.
County Council President Nancy Navarro released a statement, which reads in part:
Our County Council is on record supporting "The Montgomery County Way". We are a welcoming county, one that protects the most vulnerable among us.

The Federal government's draconian immigration policies are in stark contrast to the values of what Montgomery County stands for, as they seek to divide families and communities instead of bringing them together.  …

Earlier this year, the Council also approved a special appropriation to create a legal defense fund for immigrants who reside in the County and are facing deportation.  The Council will continue their support for our residents who have been unfairly targeted by these federal policies.
Gutierrez Lopez has sanctuary throughout the entire church property, not just her living quarters. She is not allowed to leave the church campus, Janamanchi said.
The church didn't decide to offer sanctuary lightly, he said. For months in 2017, the congregation debated whether to offer sanctuary, culminating in a congregation vote in May 2017. An overwhelming majority supported the church becoming a physical sanctuary congregation, he said.
Gutierrez Lopez joined the church during the early morning hours of Monday. On Wednesday, Cedar Lane held a welcoming ceremony.
"The reason we are doing this so publicly is to ensure ICE knows that we are not trying to hide anything here," Janamanchi said.
Cedar Lane is believed to be the only church in the region providing sanctuary to someone sought for deportation, Janamanchi said. More than 50 U.S. congregations have someone living in sanctuary, Janamanchi said. In the Netherlands, a church is having round-the-clock services to protect an Armenian family the government there wants to deport.
"We're not saying that by coming into our space the law doesn't apply," Janamanchi said. "What we're trying to say we are with you, and we will be a voice for you."'
These are images from the welcoming ceremony (all photos by Chuck Lee):