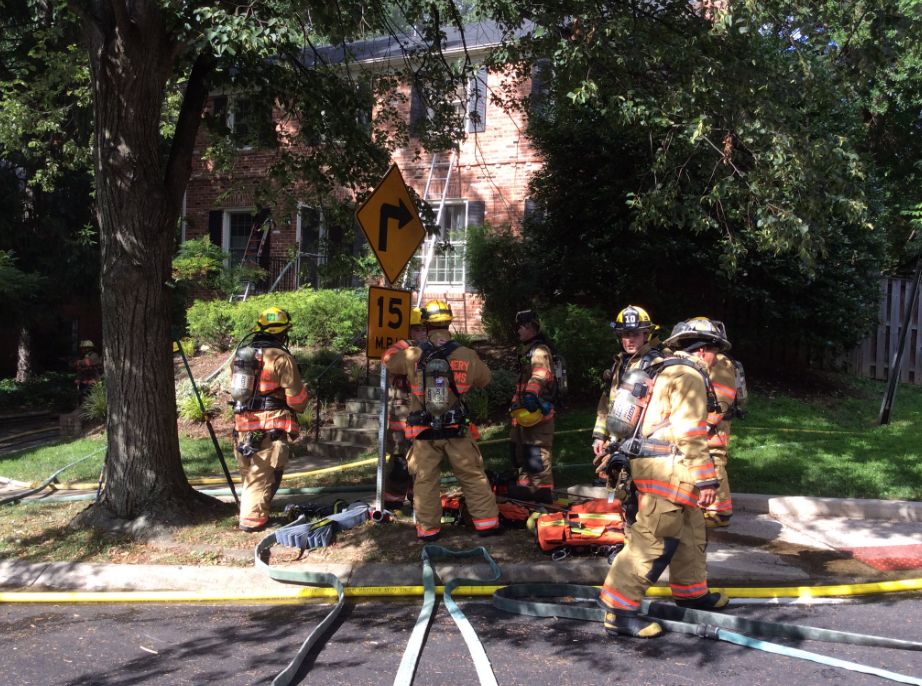 Bethesda House Fire Displaces Family, Causes $200,000 in Damage (VIDEO & PHOTOS)
A Bethesda house fire has displaced a family.
It happened this afternoon at 6701 Rannoch Road. According Fire and Rescue Spokesperson Pete Piringer, more than 60 firefighters were on scene to assist in putting out a basement fire. Piringer said the cause was electrical in nature.
No injuries were reported and one firefighter was transported to the hospital due to heat exhaustion, Piringer said. Two adults, three kids, and two dogs have been displaced.
According to Piringer, damages are estimated at $200,000.
More…Rannoch Rd; 2 adults, 3 kids, 2 dogs displaced; >75FFs OS; 1 FF transported NLT (Heat Exhaustion); no Civ inj pic.twitter.com/z5pJDtrLBd

— Pete Piringer (@mcfrsPIO) July 14, 2016
(430p) 6701 Rannoch Rd; Cause, electrical in nature; Area of Origin, bsmt; Damage, >$200K; 1 family displaced pic.twitter.com/5pgWGORhzP

— Pete Piringer (@mcfrsPIO) July 14, 2016
Rannoch Rd house, 'humiture' >100°, >75FF OS, incl NIH, Navy NSA, FFx, much overhaul to perform, rotating FF crews, pic.twitter.com/J9cAaaopho

— Pete Piringer (@mcfrsPIO) July 14, 2016
6701 Rannoch Rd, Bethesda, fire in bsmt, electrical in nature, occupants got out, >75 FFs OS, fire under control pic.twitter.com/Rb3EKiTjw8

— Pete Piringer (@mcfrsPIO) July 14, 2016
Update – Rannoch Rd, basement fire, fire under control, RID & TF, >65 FFs OS, no injuries pic.twitter.com/9Q4HPynLm1

— Pete Piringer (@mcfrsPIO) July 14, 2016
6701 Rannoch Rd, house fire, smoke showing, 2-sty single family

— Pete Piringer (@mcfrsPIO) July 14, 2016