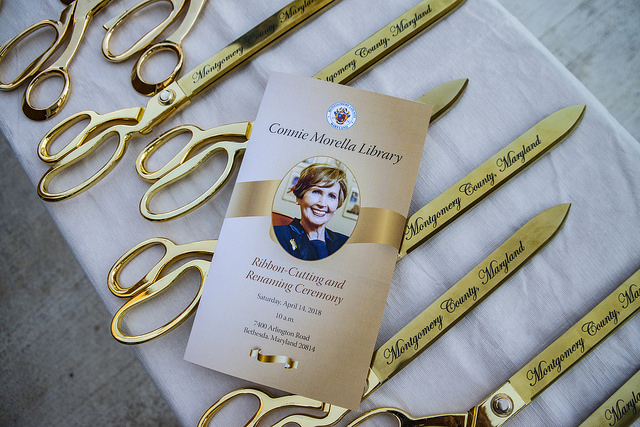 Bethesda Library Renamed to Honor Political Leader Connie Morella
Montgomery County Executive Isiah Leggett joined U.S. Congressman Jamie Raskin and Montgomery County Council President Hans Riemer, attended the grand reopening and renaming of the Bethesda Library to the Connie Morella Library.
Morella served in the Maryland General Assembly from 1979 to 1986, and Maryland's 8th Congressional District in the United States House of Representatives from 1987 to 2003. After serving in Congress, President George W. Bush appointed Morella to serve as ambassador to the Organization for Economic Cooperation and Development from 2003 until 2007.  In addition, Morella is a founding member of the Maryland Women's Hall of Fame and served as second President of the Montgomery County Commission for Women.
"Connie epitomizes our ideal of a political leader, an independent-minded elected official willing to stand on principle," Leggett said in a statement. "As a teacher and as a professor of English at Montgomery College, Connie's passion for learning, language, and literacy match the vision of the Montgomery County Public Libraries as open, inviting gateways to information, ideas, and enrichment."
The updated library includes new self-checkout desks, renovation of the public restrooms, two new collaboration spaces, and more.
Enhanced exterior updates include improved walkways and entrances improved accessibility for people with disabilities, according to a news release.
The estimated total cost for the library refresh project is $ 3.1 million. Partial funding for the project was provided by the County Library Capital Grant Program, Maryland State Library, as authorized by the Maryland General Assembly and supported by the Montgomery County Delegation.
The library, located at 7400 Arlington Road in Bethesda, is open to the community.