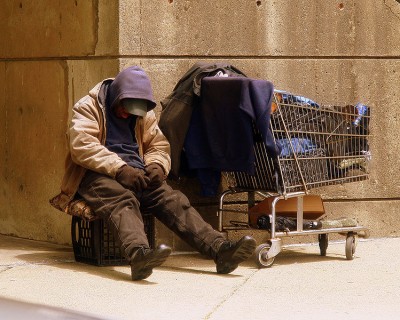 Bethesda Real Estate Firm Raises $400,000 to Help Fight Poverty and Homelessness
Walker & Dunlop, a real estate firm headquartered in Bethesda who structures loans for multifamily and commercial properties, has raised $400,000 over the past three years for two nonprofits: Lift and Community Solutions, that help fight poverty and homelessness.
Community Solutions is a nonprofit focusing on solving homelessness, with a recent focus on Veterans homelessness. LIFT is a national nonprofit fighting homelessness as well.
MyMCMedia caught up with Walker & Dunlop President Howard Smith to learn more about how the money was raised:
What started the fundraiser?
"We have a long-standing tradition of holding a company-wide potluck and fundraiser in each of our offices leading up to the Thanksgiving holiday.
"The Company has been focused on alleviating the burden of homelessness for years. We previously participated in Fannie Mae's Help the Homeless (HTH) annual fundraising walk, and provided donations to Georgetown Ministry Center and the Woodley House. After organizational changes were made to HTH, we decided to bring more structure to our Corporate Social Responsibility program by committing to becoming a strategic partner to a non-profit."
How was the money raised?
"We solicit prize donations from our employees, and on the day of the fundraiser, each employee has the opportunity to purchase the prizes. All proceeds from the annual fundraiser are donated to the non-profits, and the total is then matched by the Company."
How were the two nonprofits chosen?
"In 2014, the Company's executives tasked an internal committee of high-potential employees (from the LEAD program) with identifying a corporate charity partner. The organization had to meet certain criteria including: focus on homelessness, have volunteer opportunities/events, would consider Walker & Dunlop a strategic partner.
"The committee conducted extensive research of over 45 non-profit organizations, and found that the two, LIFT and Community Solutions, met the combined criteria."
Why is this important to our community?
"These two charities provide unparalleled support to members of our community who are struggling with poverty and/or homelessness. Community Solutions has helped find homes for more than 60,000 homeless Americans, including more than 30,000 veterans, and some members of the Montgomery County region. They have also recently opened the John and Jill Ker Conway Residence in Washington, D.C., which provide 60 homeless veterans a home as well as 64 units of affordable housing. LIFT, as mentioned in our press release, is active in the D.C. area, and helped more than 600 members access resources like groceries, transportation, childcare, and legal services, 208 members secure employment, and 100 more enroll in higher education and job training."