Bethesda's Gallery B Exhibit Features VAC Student Artwork Through Dec. 21 (PHOTOS)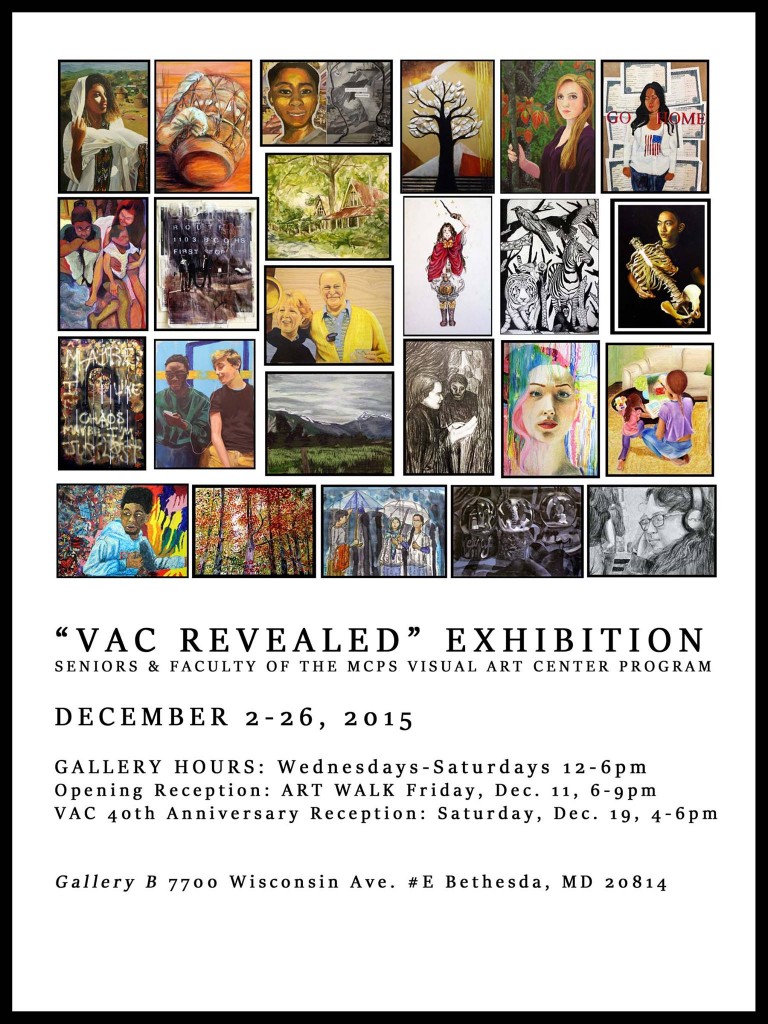 Gallery B "VAC Revealed" exhibit  opens Tuesday, Dec. 2nd and is presented by the Montgomery County Public Schools Visual Art Center (VAC). The exhibit includes original artwork created by the program's 22 seniors as well as teachers Mygenet Harris and Jane Walsh. The show also celebrates the 40th anniversary of the creation of the MCPS Visual Art Center Program (VAC) located at Albert Einstein High School in Kensington.
The VAC Program is a nationally recognized advanced art program. Students undergo a rigorous fine arts curriculum directed toward portfolio development for students pursuing a career in the visual arts. The primary goal of the VAC is to prepare students for future careers in the visual arts.
The public is invited to the opening reception Friday, December 11th from 6 to 9 p.m.  Gallery B is located at 7700 Wisconsin Avenue, Suite B in Bethesda.
Gallery hours: Wednesday – Saturday, noon-6 p.m.
Exhibiting Artists
Mygenet Harris (teacher), Jane Walsh (teacher), Bridget Anger, Tolly Colby, Lauren Etherton, Bethany George, Hanna Guevara, Ken Ha, Zoe Hall, Annie Hoberg, Clara Abnet-Holden, Sophia Holland, Emeka Johnson, Mae Keller, Rachel London, Genesis Martinez-Rivas, Julia Martinez-Rivas, Max Maynard, Elise Nickolich, Michela Shako, Sarah Stopak, Brendan Witt, Sydni Young and Bersabeh Zenebe