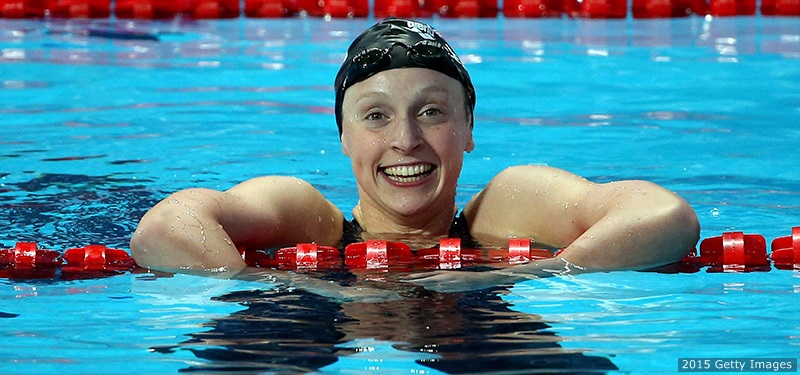 Bethesda's Katie Ledecky Wins Gold Medal in 400-Meter Free, and Sets Another World Record
Bethesda's Katie Ledecky won her first gold medal of the Rio de Janeiro Olympics on Sunday night with a time of 3:56.46 in the 400-meter freestyle, breaking the world record she set back in 2014.
"It feels great," Ledecky said in an interview with NBC following her epic swim.
Her gold medal follows the silver medal she won on Saturday night as the anchor of the women's 4×100-meter freestyle relay. It's also her 12th world record.
Ledecky will be back in the water on Monday swimming in the semis in the 200 free with the finals scheduled for Tuesday night.
Her fans in the U.S.A., including her hometown fans in Montgomery County, could not be prouder. Her name was trending on Twitter following her win on Sunday night with shout outs from everyone from former Olympian Janet Evans to actor Samuel Jackson to her high school and even the county government's account.
Katie Ledecky grabs her first Gold (and World Record) of #Rio2016!https://t.co/BWGaUNiTHM https://t.co/6Ol60hQL35

— NBC Olympics (@NBCOlympics) August 8, 2016
Katie Ledecky crushed her own World Record in the 400-meter freestyle – here's our recap. https://t.co/vu2xbjLNTB pic.twitter.com/UJKnYKJKgh

— NYT Graphics (@nytgraphics) August 8, 2016
Katie Ledecky smashes world record to win Olympic gold in 400-meter freestyle https://t.co/Lf3UI1DGYF pic.twitter.com/1jmlLNYu4f

— Washington Post (@washingtonpost) August 8, 2016
Katie Ledecky was so fast, she was celebrating her win before anyone else finished https://t.co/3X7mGJIGVm pic.twitter.com/raQbI0w30t

— The Boston Globe (@BostonGlobe) August 8, 2016
Congrats 2 the amazing @katieledecky on her 400 gold medal & WR. Her swimming speaks for itself, but its her humility & class I admire most.

— Janet Evans (@janetevans) August 8, 2016
Never a doubt, Ledecky KILLS IT!! Go USA!!

— Samuel L. Jackson (@SamuelLJackson) August 8, 2016
Congrats Katie! Go Team USA! https://t.co/rpEBoRriek

— Montgomery County MD (@MontgomeryCoMD) August 8, 2016
Woohooo!! Katie takes Gold!! #GoSacredHeartOlympians #SRCheersLedecky https://t.co/GASzsHcZMx

— Stone Ridge (@GatorsSR) August 8, 2016