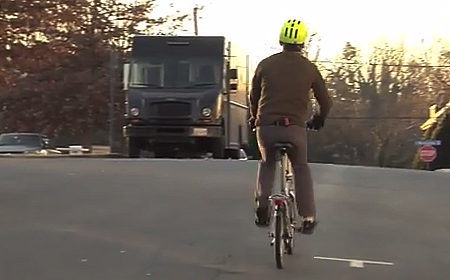 Bike to Work Makeup Day (PHOTOS)
A Bike to Work makeup day is scheduled for today from 7 – 9 a.m. in the city of Gaithersburg.
Despite driving rains, more than 30 bicyclists visited the Bike to Work Day stop in Gaithersburg at the corner of Great Seneca Highway and Orchard Ridge Road on May 16. Free t-shirts, food and drinks were provided to those who braved the elements.
Still, if you missed the event, the city is offering alternatives to pick-up t-shirts for those who registered but decided not to come out in the rain.
On May 19, between 7 and 9 a.m., an event volunteer will be at the Gaithersburg stop at the entrance of Quince Orchard Park on Great Seneca Highway to hand out t-shirts to any Bike to Work Day participant who cycles by the area.
T-shirts can also be picked up any weekday between 7 a.m. and 4 p.m. through May 30 at the Gaithersburg Public Works facility, 800 Rabbitt Road.