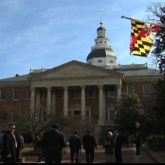 Bill Would Allow County Council to Stagger Terms
The Maryland General Assembly is expected to consider legislation that would allow Montgomery County Council members to serve staggered terms.
Under legislation proposed by Del. Al Carr, some council members would be elected in gubernatorial election years and some would be elected two years later in presidential election years.
A hearing on the bill is scheduled in the House Ways and Means Committee today at 1 p.m. in Annapolis.
The bill would only be enabling legislation, meaning it would be left to the County Council to decide how to implement staggered terms.
Some residents have expressed concerns that the result of the legislation would be to allow the subversion of term limits. Voters overwhelmingly approved a three-term limit to County Council members in the November election.
Carr's legislative aide Kyle Vaughan said the office was working on an amendment to make sure no one's terms could be lengthened by the legislation.
Staggered terms were part of the Kensington Town Council, where Carr, a Democrat, served before being appointed to the House of Delegates in 2007.
The measure has few other supporters. County Executive Ike Leggett has taken no position on the legislation, and the County Council opposes it.
Councilmember Nancy Floreen said staggered terms would disrupt the work flow of the County Council. "For us it would be very problematic," she said Wednesday.