BioTech Company Expands Headquarters In Gaithersburg, Plans to Add 45 New Jobs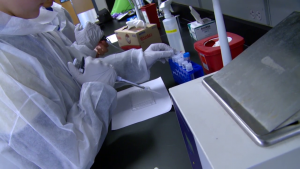 Altimmune, Inc, a clinical-stage immunotherapeutics biotechnology company, announced on Tuesday that it will relocate new employees acquired as a result of its merger with Pharmathene, and existing employees, to a new 14,000 square-foot location in Gaithersburg.
The new facility, located at 910 Clopper Road, is planned to be complete by the beginning of 2018 and will include the company's research and development facility.
Altimmune currently has 14 full-time employees in Gaithersburg and as a result of the expansion plans to add 45 new jobs over the next four years, according to a news release.
"Our move and expansion marks an important milestone in the company's history and signals our continued commitment to building a fully-integrated and diversified immunotherapeutics company," said Bill Enright, CEO of Altimmune in a statement. "Montgomery County is one of the most dynamic centers in the country for life sciences businesses, with a strong pool of experienced clinical development talent. As we advance our clinical programs, we see this location as strategic to our future growth."
Altimmune designs and develops immunotherapeutic products to address a wide range of diseases, including respiratory infections, chronic viral infections, and cancer.  The company's lead product, NasoVAX, a flu vaccine, is expected to begin Phase 2 development in the coming weeks. HepTcell, the company's second clinical program, is an immunotherapy for treating patients chronically infected with the Hepatitis B virus.
"Supporting the growth of companies like Altimmune helps reinforce Maryland's leadership in the life sciences industry, and positions us as an ideal location for companies to develop innovative new treatments for diseases around the world," said Governor Larry Hogan in a statement. "This expansion, along with the addition of 45 new jobs, is a win for Montgomery County and our state."
To assist with project costs, the Maryland Department of Commerce approved a $150,000 conditional loan through the Maryland Economic Development Assistance Authority and Fund (MEDAAF). In addition, Montgomery County is providing a $100,000 conditional grant through its Economic Development Fund. The company is also eligible for a grant up to $50,000 from the City of Gaithersburg's Economic Development Toolbox Program, as well as various state and local tax credits, including Maryland's Job Creation Tax Credit.
"Gaithersburg enjoys an excellent reputation as a hub for the biotechnology industry and we continue to foster growth within this sector with programs like our Economic Development Toolbox.  Gaithersburg Mayor Jud Ashman, said. "We thank Altimmune for choosing to grow in our community,"