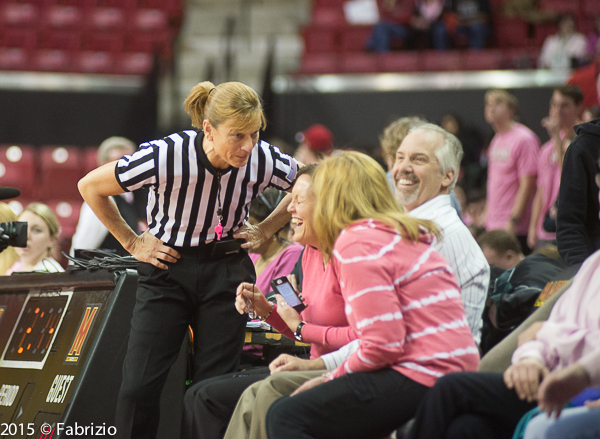 Black and White Stripes – Dee Kantner (PHOTOS)
It's a part of the game – any game for that matter where fair play matters. Referees, umpires, field judges – you name them – they are there and they get in my pictures.
Monday night it was a rare treat for those of us on courtside at the Maryland-Penn State women's basketball game. Dee Kantner was back in the house and running the court with a pink whistle.
All games are important especially for those on the court but truth be known it wasn't much of contest once Maryland extended their lead beyond 10 points. For me Dee Kantner came into play at the first end line whistle about 90 seconds into the game – and those courtside fans many of whom owned those seats for years yelled at Dee – "good call Dee, about time you made that". She handed the ball off outbounds to a Maryland guard blew her whistle for play to begin and turned around and smiled at the offending fan.
Dee Kantner, was a former NBA referee from 1997 to 2002 and the first female to referee an NBA game. She has been at this for nearly 30 years. A college athlete at University of Pittsburgh she keeps fit by sprinting faster than teenaged collegiate players down court.
From her LinkedIn page you can discover that she is the Supervisor of Officials for the WNBA, has refereed in the 2000 Olympics and has been a fixture at 18 NCAA Women's Final Fours. Tonight she is in the Xfinity Center enjoying every minute of the game and it's surroundings. She has been here many times in the past.
So 30 seconds later Dee returns down court to the last scene of the raucous Maryland courtside fans and promptly says – "I hear everything and everybody" – and everyone – I mean everyone, just cracks up. We all start laughing and she comes over to point a finger and then shakes some hands.
She gets it – and she get's it right.
It's not always this easy a gig – some games are just too intense. Like Duke and Maryland in 2013 at Durham. Big game, a cat fight of a game, a game where the traitor's from the Mason Dixon line state had bolted towards the B1G Ten and were in the house at Cameron.
Big time referees.
It's midway in the 2nd half Maryland women are on their heels and Coach Brenda Freese has been on all the ref's since early in the first. Coach B acts out and stomps after a call and aims her disgust at Dee somewhere near the arch of the 3-point line. Coach B turns and stomps again and just about then comes the technical foul – not one but two – things were about to get out of hand. As Coach B turns towards Dee now at center court she shows and expression that she's unaware of where the second tech came from. Kantner pulled the other two referees, conferred and now must ask the Coach to leave the court. You see Dee got back up from the baseline ref who threw the 2nd and final tech.
Those who watch know. They appreciate the job. You don't get to do 18 NCAA Final Fours without going out there every night and having some fun. Else why do it?
So I turned my camera away from the action on the court and covered that Black and White stripe with a pink whistle. I may not have fairly captured Dee Kantner in just these 40 minutes of game time but sometimes when you are this close you get a rare view of when work is fun and people respect when someone goes out and does her best for the game and for their enjoyment wearing black and white stripes with a pink whistle.