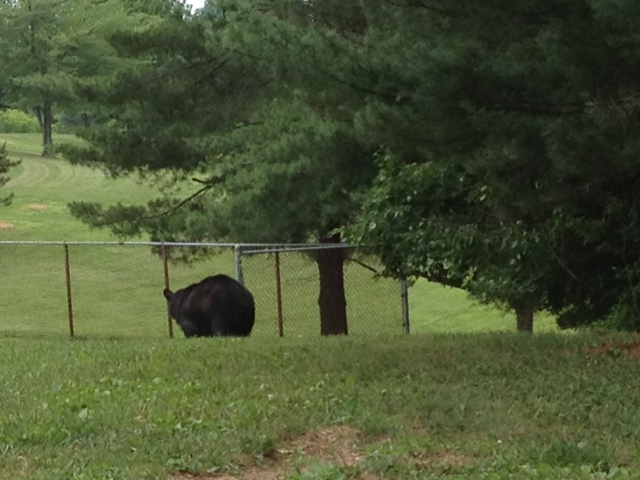 Black Bear Sighting in Damascus (PHOTO)
Damascus resident Michelle Brungard was driving out of her Montgomery County neighborhood with her husband and two kids on Wednesday around noon when she spotted a black bear moving across the landscape towards John Haines Neighborhood Park near Oak Drive.
"We were stunned, never thought we would see one," she said. "It was 10 or 15 yards away, rounding the street, down into the park area."
Brungard said she was able to snap two photos of the bear but only one of the photographs came out.
"That's a bear," said Ken D'Loughy of the Maryland Department of Natural Resources (DNR) when forwarded the photo this afternoon.
D'Loughy said his office has received reports of bear sightings in the area this week.
Brungard said her husband thought this black bear was limping or dragging one of its front paws as well.
"We were thankful we were in the car and not walking the dog or on foot," she said.
She said her family quickly lost sight of the bear as it went down the hill. But she said another neighbor reported another bear sighting near St. Ann's Episcopal Church in Damascus later in the day.
According to the DNR website, seeing a black bear is a rare occurrence in Montgomery County but it does happen especially during the months of June and July.
You can find more information about black bears in Maryland on the DNR website, here.