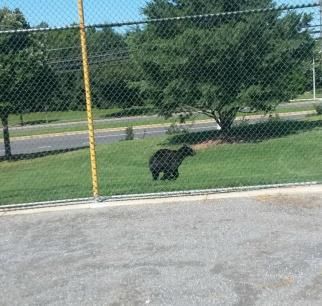 UPDATED: Black Bear Spotted in Clarksburg and Boyds (VIDEO)
UPDATED There are more reports of a black bear roaming around the Upcounty.  On Tuesday, Ken D'Loughy of the Maryland Department of National Resources says a couple of residents reported the black bear in Clarksburg. He said the bear was spotted on Rainbow Arch Drive. He's also received reports of a bear sighting at Greenridge Baptist Church.
D'Loughy says he believes this is the same black bear spotted earlier this summer in Damascus and Germantown. He said he hopes the bear gets smart and heads west.
ORIGINAL POST  It's becoming a weekly occurrence in the Upcounty.
A black bear was spotted running alongside a fence at Ridge Road Recreational Park on Monday in Montgomery County.
Just last week, a black bear was spotted on Observation Drive in Germantown, and before that there were black bear sightings in Damascus and Poolesville.
The photos of this black bear were taken by a parks employee and posted on Twitter.
You can find out more about black bears by visiting the Montgomery Parks website here.
Bear sightings at Ridge Road Recreational Park yesterday… http://t.co/pFtIryiaSR pic.twitter.com/V4Ilg9aSSu

— Montgomery Parks (@MontgomeryParks) June 30, 2015