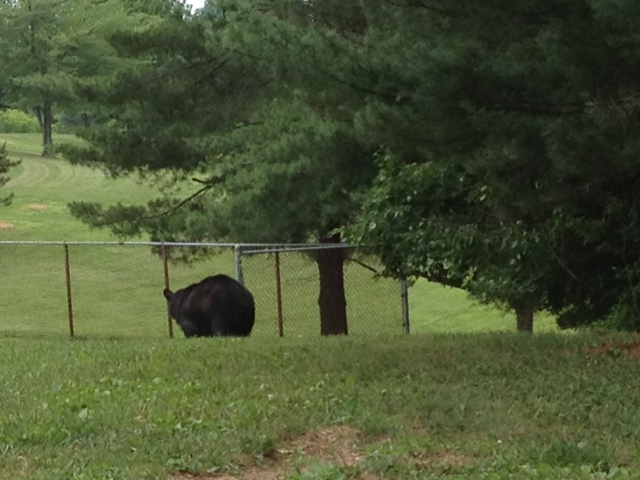 Black Bear Spotted in Germantown
A black bear has been spotted in recent weeks in Poolesville, Damascus and now Germantown.
On Friday afternoon, Montgomery County Police reported a black bear sighting on Observation Drive in Germantown.
The Maryland Department of Natural Resources advises residents on its website that black bears may be seen any time of day and are typically not aggressive.
Below are some precautions and tips if you encounter a black bear:
–Never feed a bear; remove any food sources. Trash, bird feeders and grills often lure bears into residential areas. If a bear is reported in your region, be sure to store these items in a secure place like a garage or a shed.
–If faced with a bear, give it space and ensure that it has an escape route. Do not approach or allow it to be surrounded or cornered.
–Scare bears away by making noise, such as shouting, banging pots and pans, or using air horns or whistles.
To learn more about Maryland's black bears, click here. Those with questions or reports of a bear sighting should contact the DNR Wildlife and Heritage Service at 410.260.8540 (after-hour non-emergency sightings, leave a message). For after-hour or weekend emergency issues, call 410.260.8888.
Residents report a bear sighting in the area of Observation Dr in Germantown. MCP on scene looking for the bear

— Montgomery Co Police (@mcpnews) June 26, 2015
Damascus Bear Moves to Germantown http://t.co/pmsQuXbiC3 pic.twitter.com/CQwIAeVMAF

— Germantown Pulse (@GermantownPulse) June 26, 2015
Seasonal Black Bear Sightings Increase in Suburban Areas http://t.co/0hNTycqLRQ pic.twitter.com/po1hhPGARW

— Maryland DNR (@AccessDNR) June 26, 2015
Black bear sightings on the rise in Frederick County: http://t.co/KBi0qO09Wn pic.twitter.com/ZtFBD7unT8

— Frederick News-Post (@frednewspost) June 25, 2015