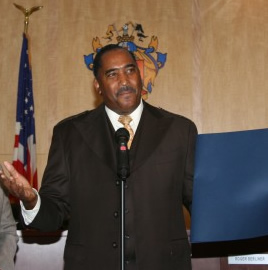 Black History Month: Montgomery Community Media Spotlights Haywood Robinson III
In honor of Black History Month, MCM is shining light on some of Montgomery County's most notable public figures, advocates, historians and leaders who have driven change and provided representation for African Americans and minorities in our area. Today, we honor Rev. Dr. Haywood Robinson III, a pastor and the president of the Montgomery County Ministers Conference.
Robinson follows in the footsteps of his father, who pastored churches in Virginia and Pennsylvania. After a brief career as a public-school teacher, Robinson became licensed and ordained at Silver Spring's Round Oak Missionary Baptist Church. He has led the People's Community Baptist Church in Silver Spring since 2005.
Outside the church, Robinson has been involved in other faith-based and community organizations including the Community Foundation of Montgomery County, Leadership Montgomery and the Montgomery County Black Ministers Conference.
Robinson has advocated for societal causes like civic engagement as president of the conference, a role he has held since 2017. He joined 20 multi-ethnic churches and community organizations from Action in Montgomery, a non-partisan community power group, to host a county executive candidate forum before the 2018 midterm elections that was attended by more than 1,200 people.
Before he served Montgomery County, Robinson pastored Baltimore's Calvary Baptist Church for 16 years. He has shared his teachings of faith across the country and in Africa, Asia and South America.
Robinson is committed to Bible-based, Christ-centered and kingdom-focused ministry, and he believes the core mission of the church is to create disciples defined by the authenticity of "L.I.F.E": Love, integrity, faith and exaltation.