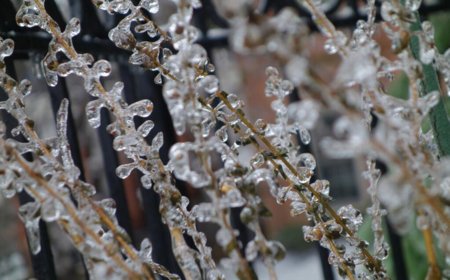 Black Ice Reported in Parts of Montgomery County, Several Roads Closed (PHOTO)
UPDATED Montgomery County police and firefighters are warning motorists to be careful on local roads today, Jan. 3, after reports of black ice in the Clarksburg area.
Fire and Rescue Services Spokesperson Pete Piringer saids "roads are icy and slick in spots."
On Grand Elm Street in Clarksburg, Piringer said a vehicle crashed into a house. One person was transported to the hospital with non life threatening injuries, said Piringer.
According to an Alert Montgomery email, a couple of roads in Montgomery County were closed earlier today because of icy conditions. The roads included New Hampshire Avenue (MD 650) between Goldmine Road to Windswept Road and Clopper Road (MD 117) between Waring Station Road to Game Preserve Road.
A Winter Weather Advisory has been issued for the northern part of Montgomery County. The National Weather Service issues a winter weather advisory when frozen precipitation is expected to impact travel. Motorists are advised to use caution when traveling.
Update: New Hamp Ave AND Clopper Road now open. Please use caution, slick spots remain on some upper County roads.

— Montgomery Co Police (@mcpnews) January 3, 2015
Roads in upper County areas may still have ice on them. Please drive the the speed limit and give other motorists more space and distance.

— Montgomery Co Police (@mcpnews) January 3, 2015
Clarksburg-'Black Ice' several cars wrecked on Grand Elm Rd near Piedmont Rd, 1 car hit house causing moderate damage pic.twitter.com/lshzaFh5dE

— Pete Piringer (@mcfrsPIO) January 3, 2015
U\D- Grand Elm St, Clarksburg, vehicle into structure, patient extricated, EMS evaluating, NLT injuries, #mcfrs on scene requests Bldg. Insp

— Pete Piringer (@mcfrsPIO) January 3, 2015
Traffic advisory – Gue Road & Long Corner Road, collision, icy conditions, road CLOSED in area

— Pete Piringer (@mcfrsPIO) January 3, 2015