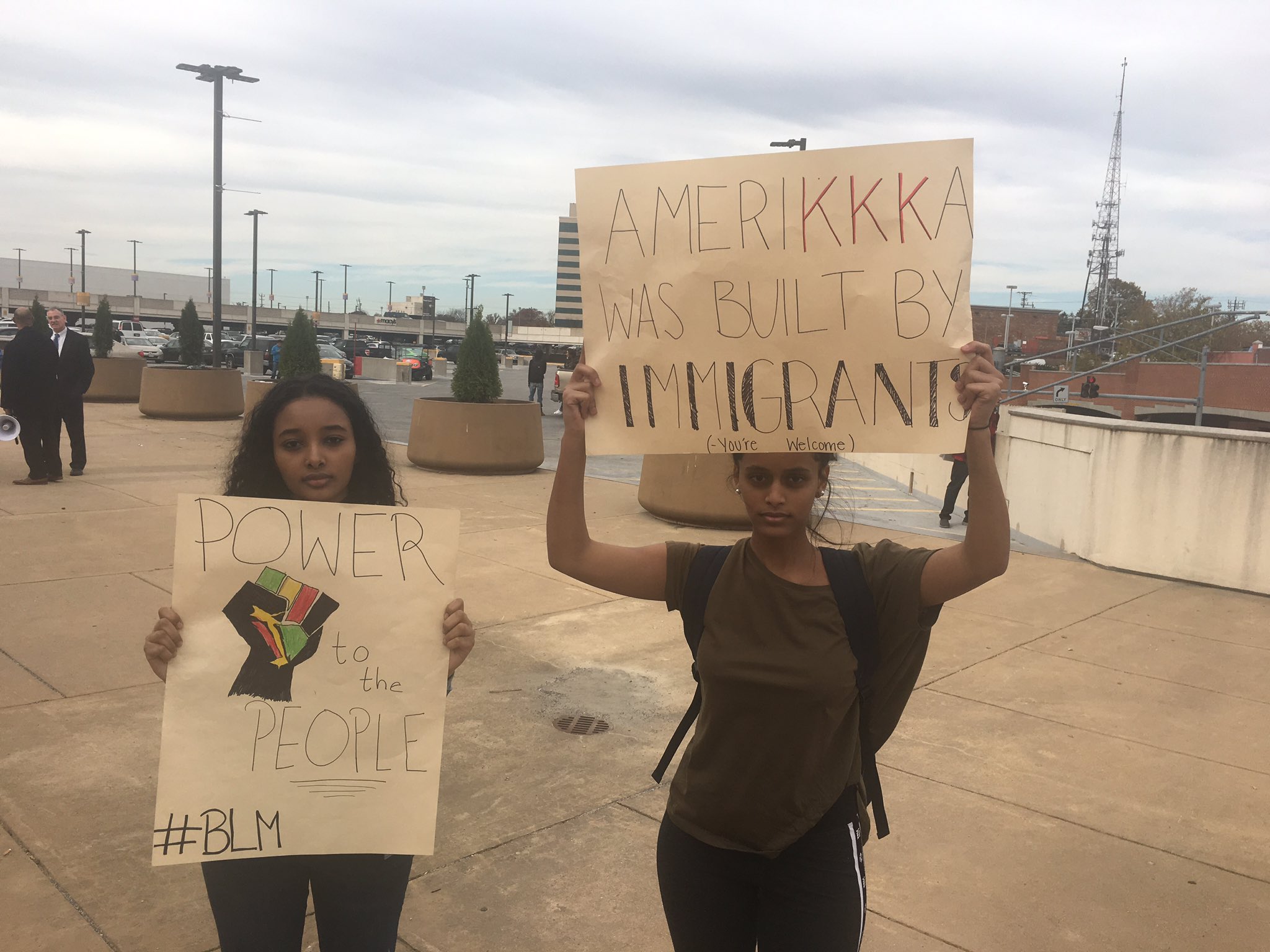 UPDATED: MCPS Students Walk Out, Protesting President-elect Trump (VIDEOS & PHOTOS)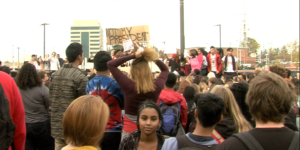 UPDATED Hundreds of Montgomery County Public Schools (MCPS) high school students walked out of class Monday morning, protesting President-elect Donald Trump.
MCPS Spokesperson Gboyinde Onijala said that students from Montgomery Blair High School and Northwood High School participated in the walk out. The protest began at the Blair High School football field at around 10 a.m., but soon spread to the streets. Students blocked traffic along University Boulevard as police monitored the scene.
MCPS officials estimate that more than 500 students marched. Students chanted  "Not my president" and  "Black lives matter," as they marched from Blair High School to Wheaton Mall, ending at Downtown Silver Spring.
Blair High School Principal Renay Johnson knew that students were planning a protest and  sent the following message to parents and guardians:
"Hello Blair Families,
"As you may have heard, high school students across the nation are planning to walk out to protest current events. We are taking a constructive approach ensure "that "students remain safe on campus and that there will be minimum disruption to the school day and their learning. Some of our students are planning a peaceful "protest at "10 a.m. today, Monday, November 14.
Participation is voluntary and not encouraged by school staff. To ensure their safety, which is our TOP priority, we "are providing "a safe place (our stadium) for students. The time planned for the protest is 10 a.m. Students are to return to the school building at the end of period 3
"(11:07 "a.m.) to resume their day. Parents will be notified through our automated attendance system if their child is marked absent from any classes today.
"Students participating in this protest must bring a note from their parent/guardian within three days stating they approve this absence or they will be marked "unexcused. As always, students who choose to leave campus without parent permission will have an unexcused absence.
"MCPS Student Code of Conduct Freedom of Assembly
"Students have a right to assemble for discussions of issues of importance to them and to demonstrate peacefully. Students have a responsibility to consult with the "school principal to determine if the activity will be allowed during the school day, outside the school day, or during lunch, and the type of supervision required. "Students also have a responsibility to work cooperatively with staff members, take reasonable steps to ensure that the activity is orderly, and make up missed work.
"References: MCPS Regulation JFA-RA, Student Rights and Responsibilities
"If you have any questions or concerns, please contact Principal Renay Johnson."
Officials also reported that about 100 Northwest High School students also walked out of class today in protest. That protest was limited to the Northwest High School football field, and students returned to class, Onijala said.
MCPS is expected to release an official statement later today.
.@mcpnews say no reported injuries so far and their main concern is students walking in the middle of the street @mymcmedia pic.twitter.com/acp6vJWVBC

— Mitti Hicks (@MittiMegan) November 14, 2016

Students from Montgomery Blair H.S. say they're thankful they live in a community where diversity is appreciated @mymcmedia pic.twitter.com/eJGoxnVjWp

— Mitti Hicks (@MittiMegan) November 14, 2016
#Breaking: Students from Montgomery Blair High School walked out of classes to protest the #Decision2016 results. https://t.co/tOeo2rxB0r pic.twitter.com/XptyIjZAiT

— NBCWashington (@nbcwashington) November 14, 2016
ADVISORY: University Blvd btwn Arcola Ave and US-29 a demonstration tying up both sides of the roadway #MoCo #MdTraffic #DCTraffic pic.twitter.com/PewoGrWTm8

— WTOP Traffic (@WTOPtraffic) November 14, 2016
Students from Blair HS & possibly other nearby high schools leaving school en masse & walking EB University Blvd. MCP officers on scene.

— Montgomery Co Police (@mcpnews) November 14, 2016
#TrumpIsNotMypresident Blair high school out here, join the movement pic.twitter.com/6nY8dijpld

— JR (@rickyy__) November 14, 2016
Montgomery Blair High School Students Walk Out To Protest Trump: MCPS, congregations react to hate messages https://t.co/hgBabNjfRu pic.twitter.com/znPjfdmEvG

— Bethesda Daily (@bethesdadaily) November 14, 2016