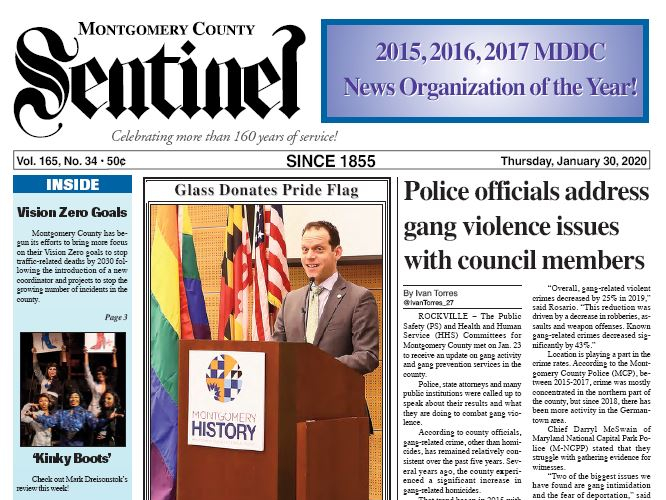 BLOG: Saying Goodbye to the Sentinel
With a circulation that dwindled from a high of 200,000 in the 1990s to the current 5,000 – although now more readers peruse the free online version – the Montgomery and Prince George's Sentinels officially closed their doors Jan. 30. With little fanfare, staff received Sentinel coffee mugs, folders and good wishes along with the hope that new jobs be found quickly.
I was a free-lance writer there for nearly five years, covering pretty much everything countywide newspapers cover. The courts, the schools, the government, the activists and my favorite – the residents. I wrote about mothers whose children became caught up in the opioid crisis and, after years of ups and downs, are alive no longer.
I spent time at Shepherd's Table and Interfaith Works, getting to know so many good people, most of them employed, who just couldn't make it in Montgomery County, the second richest county in the state. I have spent countless hours listening to those who give of themselves yet see little improvement.
I am particularly proud of an interview I had with a Montgomery County police officer, who, thanks to the kindness of a high school football coach, not only graduated high school but also became a Chicago Bear, Indianapolis Colts and Dallas Cowboy, before returning to his roots to pay back those who helped him.
I always will have a special place in my heart for all the Flower Branch Apartment residents in Silver Spring. They suffered not just through a horrific explosion and fire but also the indignity of being pushed aside by a system that holds little respect for immigrants, realizing they often will be too scared of jail or deportation to speak out.
Although I found myself reporting all too often on various racist, gender bias, anti-Semitic and anti-Muslim attacks, I came to meet some wonderful people who continually stepped up and showed me what caring and helping really means. Long after the deplorable incidents fade away, faith-based activists keep up their vigilance and love.
Lately, I found myself bogged down in traffic congestion articles concerning the proposed widening plans for 270 and 495. I can't help but wonder what will happen now that these activists have lost a way to communicate their plans. Sure, they have Facebook pages and Twitter accounts, but those tend to preach to the choir of their particular goal. No longer will county libraries possess a tall stack of Sentinels for any and all to take, many for the first time.
I also am saddened that so many talented teenagers will no longer get to see their name in print for scoring the winning run, earning top prize at the science fair or making the all-state band. Some of their achievements will be listed on on-line sites, definitely including MyMCMedia, but unless those students print out details of their moment of fame, they will never be able to come across the original article some day, many years from now, and relive that proud moment.
While many local politicians I have covered these past years have been gracious and sincere in expressing regret and sorrow over the Sentinel's closing, I can't help but think they may relax a little, knowing that one fewer set of eyes and ears will be looking into their programs and votes. They often, quite understandably, are reluctant to return calls concerning events that don't place them or their organization in the best light. Sentinel reporters will no longer fill up their email boxes and voice messages
As for me, I am not going away. There are too many important stories out there. I am working out my plans now, which include writing for this on-line publication and possibly a statewide one as well. Meanwhile, please, please, please, support your local print media outlets. You just might become addicted!