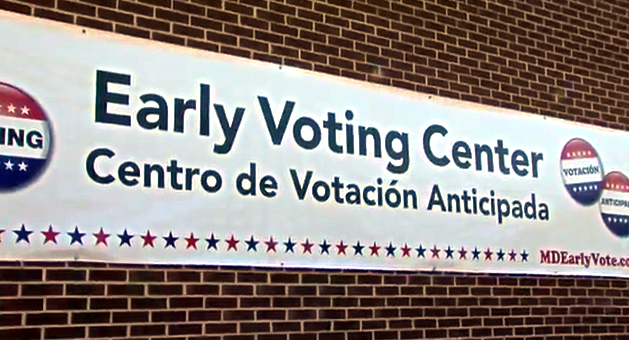 Board of Elections Votes on Locations of Early Voting Centers (VIDEO)
UPDATED The Montgomery County Board of Elections (BOE) has made a decision, by a 3-2 vote, about the locations of nine sites for early voting in Montgomery County.
The BOE voted to retain seven of the previous utilized early voting sites but dropped early voting centers in Bethesda and Burtonsville and added sites in Potomac and Olney/Brookeville.
That decision has outraged some area Democrats because the Board voted along party lines, and it has a Republican majority.
In this MyMCMedia Extra, James Shalleck, the president of the Montgomery County Board of Elections, defends the reasoning for these locations.
Take a look:
The Board considered 17 locations in total for early voting and it held public hearings for local input.
According to Shalleck, two County Council members testified at those public hearings: Sidney Katz and Nancy Navarro.
The County Council's Government, Operations and Fiscal Policy (GO) Committee has called the BOE to an Oct. 1st briefing to discuss this issue. Shalleck said he wants the entire board to attend.
The nine early voting locations in Montgomery County, include:
Activity Center at Bohrer Park
Social Hall
506 S. Frederick Avenue
Gaithersburg, MD 20877
Mid-County Community Recreation Center
Social Hall
2004 Queensguard Road
Silver Spring, MD 20906
Damascus Community Recreation Center
Social Hall
25520 Oak Drive
Damascus, MD 20872
Potomac Community Recreation Center
Social Hall
11315 Falls Road
Potomac, MD 20854
Executive Office Building
Auditorium
101 Monroe Street
Rockville, MD 20850
Silver Spring Civic Building
Great Hall
One Veterans Place
Silver Spring, MD 20910
Germantown Community
Recreation Center
Social Hall
18905 Kingsview Road
Germantown, MD 20874
Wheaton Volunteer Rescue Squad
Ballroom
2400 Arcola Avenue
Wheaton, MD 20902
Longwood Community Recreation Center
Social Hall
19300 Georgia Avenue
Brookeville, MD 20833
Early voting for the 2016 Presidential Primary Election will take place between April 14 and April 21 and between Oct. 27 – Nov. 3, 2016 for the General Election in Maryland.