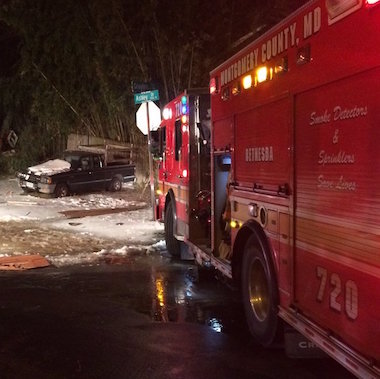 Body Recovered from Exploded Rockville Home
Crews poring over the debris of a home that exploded near Rockville early Friday morning discovered the remains of an adult and a domestic animal, Montgomery County Fire Chief Scott Goldstein said at a news conference Saturday.
The body, which was found sometime around noon, has been sent to the Office of Chief Medical Examiner for an autopsy and identification, Goldstein said.
Goldstein said the body could not now be identified as the home's owner. Identification would follow an autopsy, he said.
However, he did say a relative of the home's owner was contacted to inform the person that a body had been found, Goldstein said.
The explosion created a large debris field. Cleanup by the county's Department of Public Works Division of Highway Services would continue to return the neighborhood to normalcy, he said.
The explosion, about 12:50 a.m., damaged 10 other houses and nine vehicles, and was felt by residents who lived more than a mile away.
As part of the investigation, Goldstein said every piece of appliance is being examined to determine its operational state.
Goldstein said that gas has not been ruled out a possible cause. He had said Friday that Washington Gas turned off the gas in June 2015. Since December 2016, Goldstein said there has been unauthorized gas use in the structure.
And he wouldn't say whether investigators believe the explosion was intentional or accidental.
Firearms and ammunition were found in the rubble.
Previous post:
https://www.mymcmedia.org/explosion-levels-house-in-rockville-resident-unaccounted-for/