BOE Leaders & Superintendent on Legget's CIP
Montgomery County Board of Education President Phil Kauffman, Board Vice President Patricia O'Neill and Superintendent Joshua P. Starr released the following statement concerning the release of County Executive Isiah Leggett's Capital Budget Recommendation:
"We want to thank County Executive Isiah Leggett for his commitment to school construction in his recommended Capital Improvements Program for Fiscal Years 2015-2020 and his leadership in working to bring more state dollars to Montgomery County for our construction needs. We appreciate Mr. Leggett's support of our goal of keeping our projects on schedule as much as possible to provide our students with the modern classrooms they deserve. This budget is an important investment toward that plan.
"Our district is growing by more than 2,500 students a year and that growth is expected to continue for years to come. Clearly, the County Executive understands the significant need in MCPS to increase classroom space and upgrade our aging facilities throughout the district. He also is keenly aware that our needs are even greater than his recommendation can provide for, which is why he is leading the effort to increase the school construction funds we receive from the state. With the state and local investment, we will be able to give our students facilities and classrooms that support a 21st century education. We look forward to working with County Executive Leggett, the County Council and our community on this request and the effort to bring more state dollars to Montgomery County."

Related posts: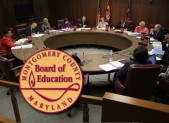 Montgomery County Board of Education President Phil Kauffman, Board Vice President Patricia O'Neill and Superintendent Joshua P. Starr released the following statement concerning the release of County Executive Isiah Leggett's Capital Budget Recommendation: "We want to thank County Executive Isiah Leggett for his commitment to school construction in his recommended Capital Improvements Program for Fiscal […]
Montgomery County Executive Isiah Leggett unveiled his six-year Fiscal Year (FY) 2015 Capital Budget and FY 2015-2020 Capital Improvements Program (CIP) that continues to make funding the County's unprecedented growth in school enrollment the highest priority. The budget also includes needed capital spending for approved plans to spur economic growth in Wheaton, Shady Grove, White […]