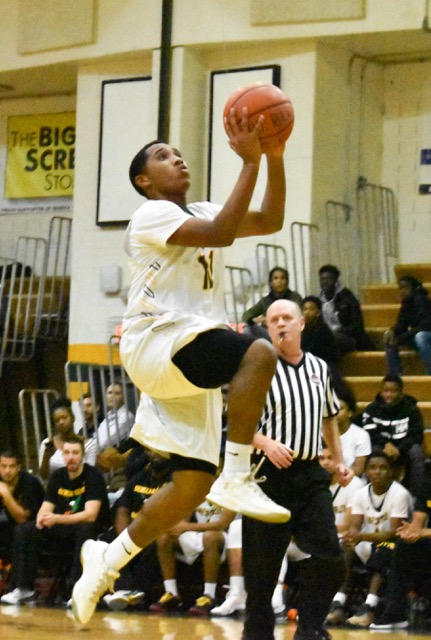 Boys Basketball: Seneca Valley Over Gaithersburg, 84-57
Today, I am providing my reader/followers a preview to the newest MCM Community Blogger, Daryl Schultz.  Daryl, a good friend of many years, is a former MCPS teacher and high school athletic coach who among his many interests has a fondness for photography.  Over the past few months I have been mentoring Daryl on how to do sideline sports photography (in preparation for his blog) and he has been teaching me how to fish, once again.  Daryl is an avid sportsman who REALLY likes to fish and I expect that his "BAYCOUNTRY" blog here on MCM shall on more than a few occasions cover his expeditions to the Chesapeake Bay, the Potomac River, Maryland's numerous lakes and of course his beloved Outer Banks of North Carolina.
So today in this blog I move aside to allow Daryl to present his view on a past week's Montgomery County 3A/4A High School boys basketball game between Seneca Valley and Gaithersburg that includes his sports images.

Wrap up of Gaithersburg at Seneca Valley, Boys Basketball – January 23rd 2017
Seneca Valley's boy's varsity basketball team defeated visiting county rival Gaithersburg 84 to 57, Jan. 23, before an enthusiastic home crowd.  The talented Screamin' Eagles ranked 7th by the Washington Post brought their season record to 13 – 1 with this convincing win last night.
The Screamin' Eagles were flying up and down the court leading to several first half dunks and several uncontested layups against the outmatched Gaithersburg Trojans.   The visiting Trojans were quickly down 25-8 by the end of the first quarter.  Seneca's pressure defense led to many missed shots and turnovers during the entire contest.
The Trojans (4-9) played hard and never gave in despite being outmatched by Seneca Valley.  The Screamin' Eagles quickness and strength were too much for the Trojans to handle.  Seneca Valley's senior starting lineup has a bright future heading into the month of February.
Photos:  2017© Daryl Schultz