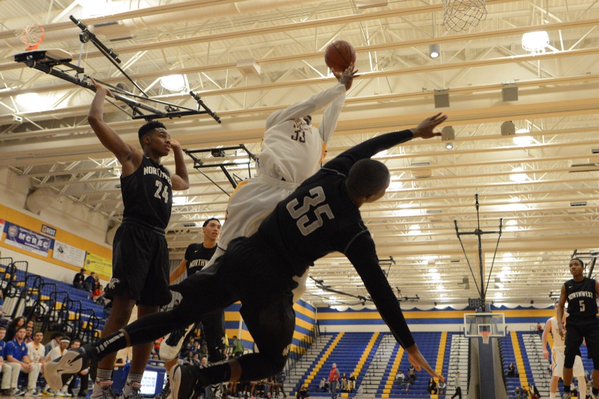 Boys' Basketball: Gaithersburg Over Northwest, 62-59 (PHOTOS)
It was the Gaithersburg Trojans boys basketball team over the Northwest Jaguars, 62-59, tonight in Gaithersburg.
The Trojans took the lead early until the fourth quarter, when the Jaguars tied the game 51-51 with a little over 5 minutes left to play. But the Trojans were able to pull out a win, finishing the game at 62-59.
PHOTOS | Phil Fabrizio
Trojans over the Jags 62-59. @mymcmedia @Gburgathletics @NWJagSports @allmetsports @cszscores @gdpoze pic.twitter.com/RN6QWHQEyM

— Phil Fabrizio (@Photoloaf) January 22, 2016
58-57 Trojans with 1:28 left in the game. @mymcmedia @NWJagSports @Gburgathletics @cszscores pic.twitter.com/R4wsMfX9gC

— Phil Fabrizio (@Photoloaf) January 21, 2016
All tied up here in Gaighersburg with 5:15 left. It's 51-51 @mymcmedia @Gburgathletics @NWJagSports pic.twitter.com/DB6QrVs2rb

— Phil Fabrizio (@Photoloaf) January 21, 2016
End of 3 Trojans 46 Jags 44. @mymcmedia @NWJagSports @Gburgathletics @allmetsports @cszscores pic.twitter.com/EBRMOyNkvQ

— Phil Fabrizio (@Photoloaf) January 21, 2016
Halftime entertainment by the Gaithersburg Poms. @mymcmedia @Gburgathletics @gdpoze @NWJagSports pic.twitter.com/MMQmyOCZSg

— Phil Fabrizio (@Photoloaf) January 21, 2016
Trojans lead 37-22 over NW at half @mymcmedia @cszscores @allmetsports @Gburgathletics @NWJagSports pic.twitter.com/hK0ZeP2YsO

— Phil Fabrizio (@Photoloaf) January 21, 2016
Gaithersburg 16 NW 10 after 1. @mymcmedia @cszscores @Gburgathletics @NWJagSports pic.twitter.com/V1HnWTEVIr

— Phil Fabrizio (@Photoloaf) January 21, 2016