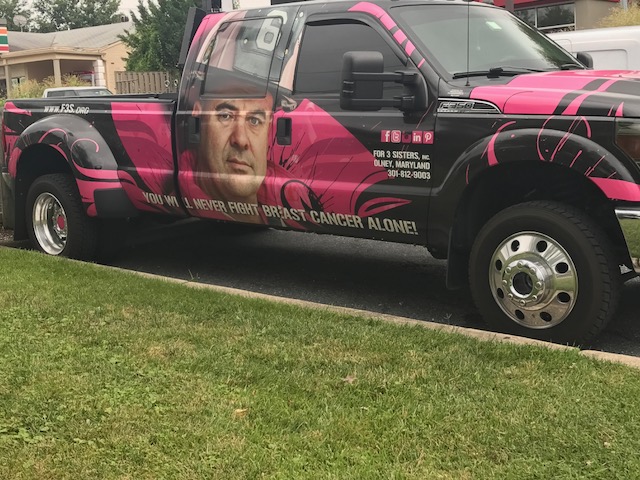 Breast Cancer Non-profit 'For 3 Sisters' Opens New Headquarters in Olney (PHOTOS & VIDEO)
'For 3 Sisters' is a local breast cancer nonprofit in Montgomery County that recently opened new offices in Olney. Here's the story:
Marshall Moneymaker is a retired Montgomery County firefighter and known to many in Montgomery County as the "the pink fireman" for his advocacy about breast cancer; a disease that claimed the life of three of his sisters.
"While I was on the job I lost Penny, Vicky and Valessa to Breast Cancer," he said. "Vicky passed in 2008. Penny and Valessa passed in 2010 […] that's three sisters within two years."
Through his process of healing, Moneymaker started a nonprofit in 2011 from the basement of his home titled "For 3 Sisters" to support breast cancer fighters, survivors and their caregivers.
Now 6 years later, Moneymaker and his wife Shannon, are celebrating the organization's expansion from their home office to a new headquarters in Olney.
"This is a milestone and what it allows us to do is bring in a new case manager, bring in volunteers and have a home to have our board meetings and those types of things," Moneymaker said.
An increasing client base is why they are adding new positions to their team and expanding to a bigger place.
Most of the items in the new headquarters, from the office furniture, couches, office supplies and even the flooring, were donated from local businesses and volunteers in the community.
"It was just one gift after another and when it happened, I just couldn't help but cry because my heart was just overjoyed with people's compassion and kindness," said Shannon Moneymaker, executive director of For 3 Sisters Inc.
From home office to a headquarters, she said it's something she never imagined.
"I've never thought I would be on the phone with a woman calling at 3:00 in the morning having a panic attack because her diagnosis was so overwhelming," she said.  "I think if his sister were here today, they would be overjoyed. I think they have their hands on his shoulders every day helping him through."
.@For3Sisters has a new home. Here 2 talk with Shannon and Marshall Moneymaker, the organization's founders, about the new move. @mymcmedia pic.twitter.com/01ugzMCIDd

— Mitti Hicks (@MittiMegan) July 28, 2017