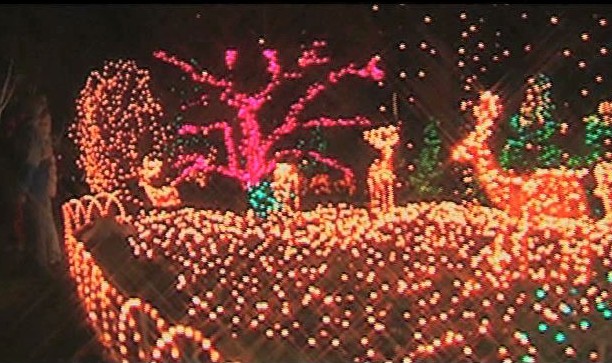 Brookside Gardens Cancels Traditional Garden of Lights Show
Brookside Garden's traditional Garden of Lights will stay dark this year, as a major renovation project is forcing officials to cancel it.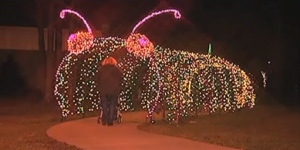 Montgomery Parks, part of the Maryland-National Capital Park and Planning Commission cancelled this year's Garden of Lights Show at Brookside Gardens due to ongoing construction to the entrance and parking areas. The project is expected to be complete in June 2015. More details on the work are available at www.BrooksideGardens.org.
"We regret having to cancel this year's Garden of Lights Show. We know how much our visitors love this event," said Stephanie Oberle, Director of Brookside Gardens. "Consult the Xperience Guide to Programs and Events for other opportunities at the Gardens. You can still enroll in our winter classes, visit the Marylandica Gift Shops and enjoy the Visitors Center Art Exhibitions. We are pleased that the annual Conservatory Winter Display and Garden Railway Exhibit will be open this year."
The Garden of Lights draws an estimated 45,000 visitors and the cost was $25 per car on the weekends and $20 per car during the week, according to Melissa Chotiner, media relations manager for MNCPPC Montgomery Parks. Chotiner said the event generates "tens of thousands of dollars"  which varies annually mainly due to weather.
This year marks the 10th season for the Garden Railway Exhibit in the South Conservatory provided by the Washington, Virginia and Maryland Garden Railway Society. The exhibit will be open November 28 – January 11 from 10 a.m. – 5 p.m.(closed on Christmas Day). It features miniature trains and trollies amidst a landscape of town and country scenes with past one-of-a-kind models of the Brookside Gardens Conservatories, the Dentzel Carousel and the Chautauqua Tower of Glen Echo Park.
The annual Winter Cheer Display located in the other conservatory at Brookside Gardens features an array of Poinsettias in red, pink and white and many other bold flower displays. It will be open December 6 – January 11 from 10 a.m. – 5 p.m. (closed on Christmas Day).
Additional holiday events and programs taking place in Montgomery Parks during the 2014 season include:
Christmas on the Farm
December 13 and 14, 12 p.m. – 5 p.m.
Agricultural History Farm Park
18400 Muncaster Road
Derwood, MD 20855
This free annual event features turn-of-the-century decorations, live Christmas music and caroling, hayrides (weather permitting), children's activities and free hot cider and ginger cookies. Homemade baked goods are available for purchase.
Winter Solstice Celebrations at Montgomery Parks Nature Centers
Meadowside Nature Center Winter Solstice Celebration
Saturday, December 20, 7 – 8 p.m.
Meadowside Nature Center
5100 Meadowside Lane
Rockville, MD 20855
For ages 3 & up, $5 (adults free)
www.ParkPASS.org (Course #301299)
Participants will enjoy tales of winter, make lanterns and enjoy toasty marshmallow treats
Brookside Nature Center Winter Solstice Celebration
Sunday, December 21, 1 – 5 p.m.
Brookside Nature Center
1400 Glenallan Avenue
Wheaton, MD 20902
For ages 3 & up, $5
www.ParkPASS.org (Course #303150)
Celebration includes a spiral walk, hot cider by the fire, lantern making and shadow-puppet theater's presentation of "Shingebiss and the North Wind."
Locust Grove Nature Center Winter Solstice Celebration
Sunday, December 21, 4 to 6 p.m.
Locust Grove Nature Center
7777 Democracy Blvd.
Bethesda, MD 20817
For ages 3 & up, $5
www.ParkPASS.org (Course #304010)
Make New Year's wishes, light candles, make treats to share with animals, and roast chestnuts on an open fire.
To learn more about Montgomery Parks' Winter events, classes and programs visit www.MontgomeryParks.org/Guide.