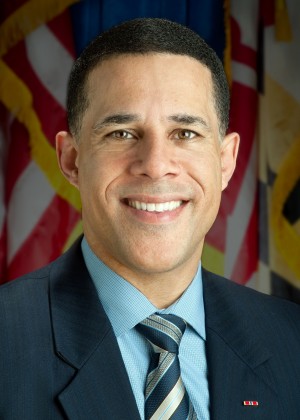 He's Running: Brown Announces Campaign for Governor

UPDATED
It's official: Maryland Lt. Governor Anthony Brown formally announced his campaign for governor in front of a crowd of several thousand at Prince George's Community College on May 10th in Largo.
"Today, I'm asking you to join me to build on our successes, to take on our next challenges, to make Maryland better for more Marylanders.
"We'll build strong communities and support strong families by growing our economy, creating jobs, building the most competitive workforce, and developing Maryland's business community…Let's build a future where all of our families have access to quality, affordable healthcare regardless of zip code. Let's end the health disparities that exist in too many of our communities…Let's take on the public health and public safety challenge of domestic violence that affects far too many families.
"Marylanders don't expect government to solve every problem, but they do want leaders to understand the problem, to understand the urgency to make progress…And that's what I intend to do. That's why I'm running for Governor, and that's why I need you to join me in this campaign!"
For seven years, Brown has served as Maryland's Lt. Governor where he has taken the lead on efforts to grow the economy including: working to pass the state's new Public-Private Partnership law that's estimated to create 4,000 jobs; leading the Administration's effort to implement President Obama's Affordable Care Act after successfully expanding health care to 375,000 Marylanders, half of them being children; and working to make Maryland's schools #1 in the nation for five straight years while pushing for new investments to strengthen school districts facing tough challenges.
As a Colonel in the U.S. Army Reserve, Brown is the highest-ranking government official in the nation to have served a tour of duty in Iraq. A graduate of Harvard University and Harvard Law School, Anthony is the proud father of Rebecca (18), Jonathan (12), and stepson Anthony Walker (13). He and his wife Karmen reside in Prince George's County.
Brown was joined at the announcement by friends, family, and local leaders.
"As an Army Colonel serving in Iraq and later as our Lt. Governor, Anthony Brown has stood up for the people of Maryland every step of the way," said Congresswoman Donna Edwards. "As our next Governor, I know he will work tirelessly to continue leading efforts to grow the economy and ensure health care access for all in order to make Maryland better for more Marylanders."
Brown's announcement tour will continue Saturday with events in Frederick and a meet and greet at Veterans Plaza in Silver Spring. Brown's "Making Maryland Better for more Marylanders" tour will conclude with an event in Baltimore where he will be joined by Maryland Governor Martin O'Malley.
For more information on his announcement tour, visit www.anthonybrown.com.