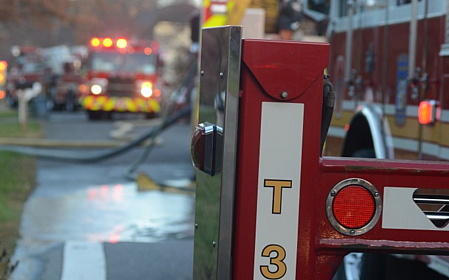 Laytonsville Brush Fire Caused By Burning Yard Waste (VIDEO)
UPDATED, APRIL 1, 6:45 a.m. – Wind gusts and a resident burning yard debris combined to start the fire that consumed more than 50 acres in the Laytonsville area Tuesday.
Montgomery County Fire and Rescue Services Spokesman Pete Piringer reported the flaming debris ignited the woods nearby setting off the fire that took more than 125 firefighters from multiple agencies to control. No one was injured in the blaze and no structures were destroyed, he said.
ICYMI (3/31) 50+ acre fire started w/ resident burning yard debris & wind gust blew flaming debris igniting woods pic.twitter.com/NaqqtFnX3v

— Pete Piringer (@mcfrsPIO) April 1, 2015
ORIGINAL – A brush fire that started Tuesday afternoon near the Montgomery/Howard County border consumed an estimated 40-50 acres, according to Montgomery County Fire and Rescue Spokesperson Peter Piringer. Take a look at the effort to battle the blaze: https://youtu.be/fNJ386xVtVA There are road closures to report because of this fire. Damascus Road is closed in both directions between Laytonsville Road and Hipsley Mill Road. Damascus Road at Route 650 is closed as that area is used as a water fill site, according to Piringer.
Laytonsville Brush/Woods Fire – >30 fire units & >75FFs on scene, MoCo being assisted by several surrounding jurisdictions — Pete Piringer (@mcfrsPIO) March 31, 2015
Large (>30acre) Laytonsville area BRUSH/WOODS FIRE, #MCFRS utilizing at least 10 engines, 8 water tankers, 12 brush trucks, MSP Helicopter — Pete Piringer (@mcfrsPIO) March 31, 2015
Large Brush Fire (>25 acres & growing) vicinity 7200blk. Damascus Rd near Rt108 in Laytonsville area, nearly a dozen units assisting — Pete Piringer (@mcfrsPIO) March 31, 2015