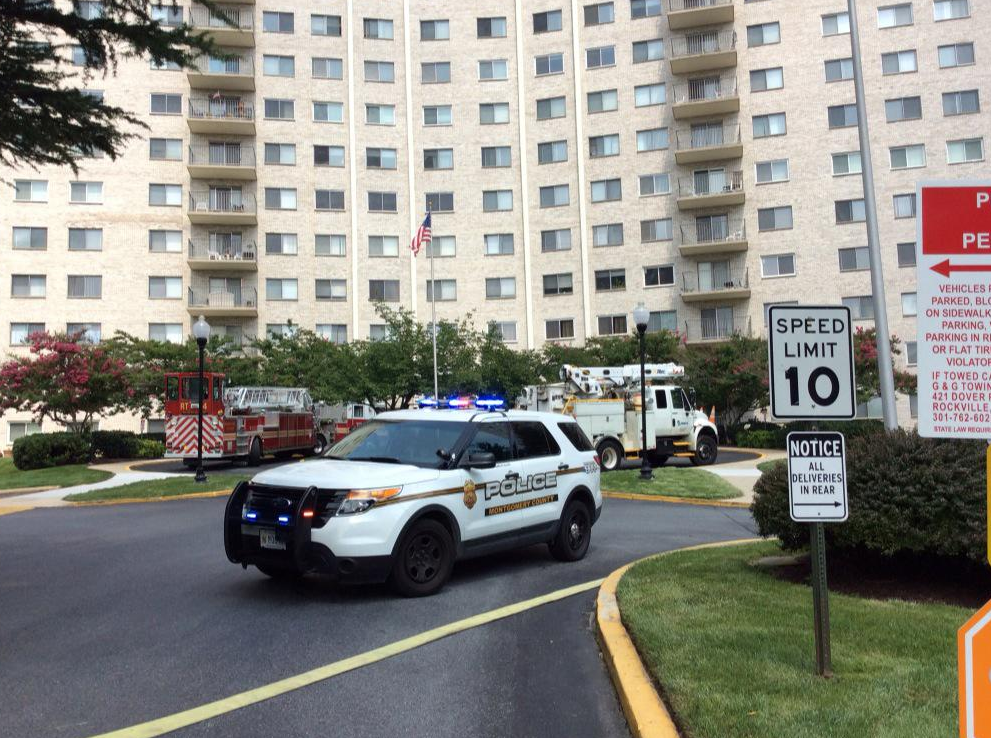 UPDATED: Building Evacuated in Silver Spring (PHOTOS)
UPDATED, July 8, 2:25 p.m.-  Montgomery Couty fire official said electricity was restored at 2:45 a.m. on July 8 and emergency generator continues to operate in the 15-story building in Silver Spring.
There is still no air conditioning or hot water. Fire alarms are back on, a fire official said.
The building had two electrical fires in a 72-hour period.
Original:
Montgomery County firefighters evacuated residents from a building in Silver Spring on July 7 after an electrical fire started in the basement and spread through the building.
Fire and Rescue Spokesperson Pete Piringer said the building also had an electrical fire on July 5.
"Sunday night we had almost the same thing. … today it was the [electrical] panel next to the one that burnt before," Piringer said.
The fire caused a power outage in the 15-story building located at 1111 University Boulevard. More than 1,000 residents are affected, according to Piringer.
As of 11 p.m., power was still out and Montgomery County Fire and Rescue Office of Code Compliance officials were on the scene to make sure everything will work properly once power is back on, Piringer said.
People trapped in elevators were taken out. The building has 275 condos.
"We are now basically letting people shelter in place," he said.
The American Red Cross was at the scene to assist residents. Due to power outage Montgomery County Department of Health and Human Services along with Red Cross opened a shelter at Blair Hight School for residents affected by this incident.
Photos from the scene:
Update University towers, power outage, due to electrical fire in basement, fire fighters checking for people trapped in an elevators

— Pete Piringer (@mcfrsPIO) July 7, 2015
1111 University Bl, University Towers W, 15-sty hi-rise condo, electrical fire in basement, some smoke in bldg, bldg evacuated

— Pete Piringer (@mcfrsPIO) July 7, 2015

University Towers – electricians advise power still out & likely to remain that way most of nite, no AC, no hot water pic.twitter.com/W2KAqhg01B

— Pete Piringer (@mcfrsPIO) July 8, 2015

https://twitter.com/mcfrsPIO/status/618591705672077312