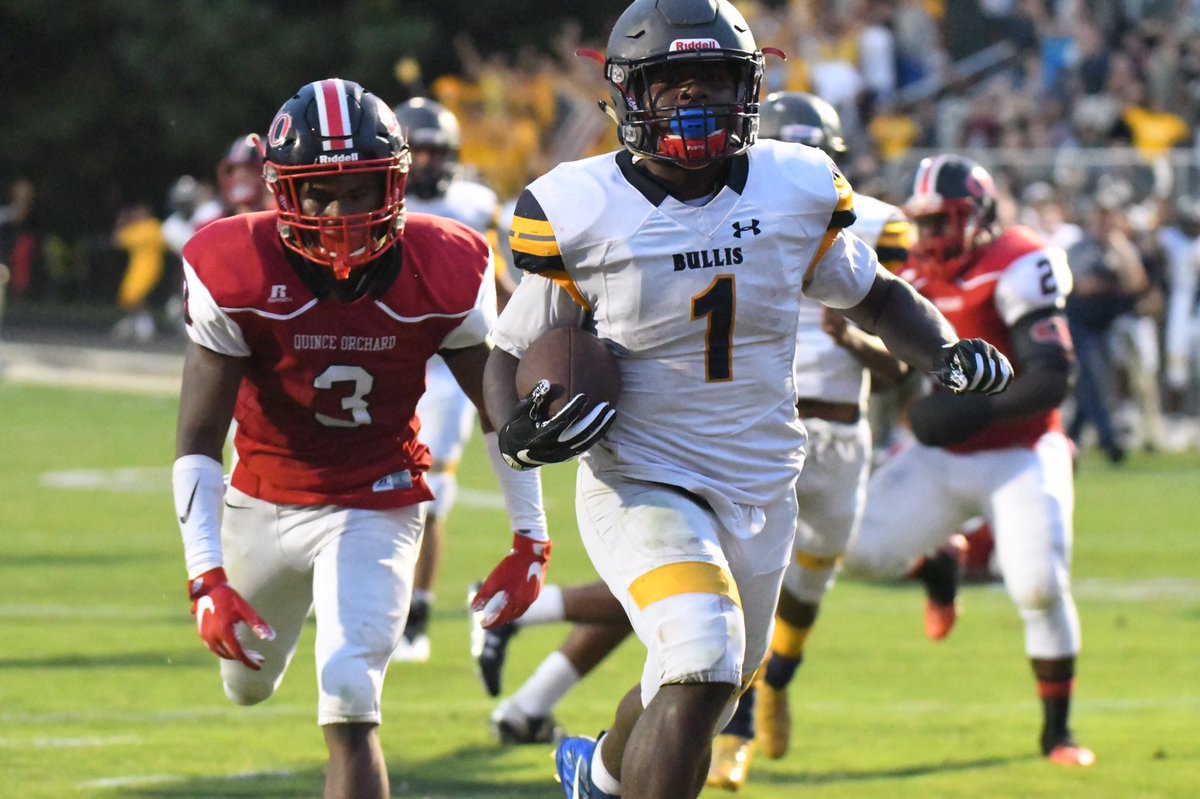 Bullis Bulldogs Over Quince Orchard Cougars in 42-41 OT Victory (PHOTOS)
The Bullis Bulldogs take on the Quince Orchard Cougars at the Cougar Dome in North Potomac Friday night. It was a hard fought inter-league game resulting in a tie at the end of regulation play. Bullis managed a 42-41 win in overtime.
Bullis put numbers on the board first with a two-yard touchdown run by Bryson Shaw with 6:37 left in the first quarter. Quince Orchard tied the game with a 70-yard touchdown run, making the score 7-7. Bullis' running back Erik McKan powered his way through three tacklers to score a 31-yard touchdown, giving Bullis the lead at 14-7. A 55-yard pass from Bullis' backup quarter back Jackson Greenleaf to Bryson Shaw late in the second quarter brought the score to 21 – 7, Bullis.
In the second half, Quince Orchard took the momentum and narrowed Bullis' lead to seven points with Marquez Cooper's touchdown run. Bullis returned the kick off to score a touch down, making the score 28-14 in the third quarter. Quince Orchard scored on an 80-yard drive with a 3-yard 'Doc' Bonner touchdown run to bring the score to 28-21 late in the third quarter.
In the fourth quarter, Bullis turned the ball over on downs and Quince Orchard scored again with a 'Doc' Bonner run for a touchdown, but were unable to score on their two point conversion attempt. Next Bullis scored with a 16-yard pass from Jackson Greenleaf to Isaac Aronson, with 2:14 left in the game. Quince Orchard responded with a 72-yard touchdown pass followed by a two point conversion to tie the game at 35-35.
In overtime, Bullis had the first possession and scores with a Erik McKan touchdown run. Quince Orchard responds with a Bonner pass to McGonagle, but were unable unsuccessful with their 2 point conversion attempt.
Final score 42-41, Bullis.
PHOTOS | Phil Fabrizio
Qo's 2 pt conversion pass sails and Bullis wins 42-41 @mymcmedia @QOAthDirector @BullisAthletics pic.twitter.com/KSsoPQJIxB

— Phil Fabrizio (@Photoloaf) September 23, 2017
Bonner pass to McGonagle. QO sets up for 2pt conversion @mymcmedia pic.twitter.com/sIuqREaaZ8

— Phil Fabrizio (@Photoloaf) September 23, 2017
Game is in OT. Bullis scored first42-35

— Phil Fabrizio (@Photoloaf) September 23, 2017
Bonner ties the game on 2 pt conversion 35 all with 1:30 left in the game. @mymcmedia

— Phil Fabrizio (@Photoloaf) September 23, 2017
72 yd TD pass from Bonner puts it 33 for QO 35 for Bullis @mymcmedia

— Phil Fabrizio (@Photoloaf) September 23, 2017
Aronson's catch from Greenleaf makes it 35-27 with Xtra pt @BullisAthletics @mymcmedia @BullisAthletics less 2 min on clock pic.twitter.com/h8YOUBk4ut

— Phil Fabrizio (@Photoloaf) September 23, 2017
Bonner falls short on 2pt conversion score remains 28-27 Bullis in the 4th @QOAthDirector @BullisAthletics @mymcmedia

— Phil Fabrizio (@Photoloaf) September 23, 2017
Bonner scores after holding penalty put QO on the 12. 28-27 Bullis with 6:23 left. pic.twitter.com/WYNAGxy5Zh

— Phil Fabrizio (@Photoloaf) September 23, 2017
Bonner scores from 3 yds out making it QO 21 Bullis 28 @mymcmedia @QOAthDirector @BullisAthletics in the 3rd pic.twitter.com/BtpoH2f6fO

— Phil Fabrizio (@Photoloaf) September 23, 2017
Bullis takes KO return all the way for a score 28-14 @mymcmedia with 5:49 left in the 3rd

— Phil Fabrizio (@Photoloaf) September 23, 2017
Cooper for the QO score makes it 21-14 @mymcmedia pic.twitter.com/eeKQP27YuO

— Phil Fabrizio (@Photoloaf) September 23, 2017
55 yd TD pass from Greenleaf to Shaw makes it Bullis 21 QO 7 with 1:30 left in half. @mymcmedia @BullisAthletics pic.twitter.com/NTm6op14K7

— Phil Fabrizio (@Photoloaf) September 22, 2017
McCan bounces off 3 QO tacklers and runs for 31 yd TD Bullis 14 QO 7 @mymcmedia @BullisAthletics @WashPostHS pic.twitter.com/YwuJ9sAFDl

— Phil Fabrizio (@Photoloaf) September 22, 2017
Hodges turns Strachen's miscue into a 70 yd TD all tied up in NP 7-7 @BullisAthletics @QOAthDirector @mymcmedia pic.twitter.com/NwkuR0tgs0

— Phil Fabrizio (@Photoloaf) September 22, 2017
QO had 1st and goal @ the 2 but fails on a 29 yd FG attempt. 7-0 Bullis. @QOAthDirector @BullisAthletics @mymcmedia pic.twitter.com/jKlQH724CU

— Phil Fabrizio (@Photoloaf) September 22, 2017
Shaw on a 2yd run puts Bullis up 7-0 with 6:37 in the 1st. @mymcmedia @BullisAthletics pic.twitter.com/2FemwR9UuS

— Phil Fabrizio (@Photoloaf) September 22, 2017
Kick off is moments away. @mymcmedia @BullisAthletics @QOAthDirector pic.twitter.com/RJAtpV3rej

— Phil Fabrizio (@Photoloaf) September 22, 2017